Sunday, September 28, 2014
Posted by

Kara Pothier
at 11:33 PM
No comments:


Links to this post
Sunday, February 9, 2014
I have carried this quote with me for years. At one time I had it memorized and would occasionally repeat it to myself as I struggled with "delays" and "sidetracks".
As I held the throw-up bowl for my daughter at 4 o'clock in the morning on Saturday, this quote once again came to my mind. And as I repeated it to myself, watching my little girl lay on the floor of our bathroom, I added in the word "Motherhood." Anyone who imagines that bliss in motherhood is normal is going to waste a lot of time running around shouting that she has been robbed." Let me tell you there was nothing blissful about that night. Cannon woke up just minutes after I got into bed just before midnight. After feeding him, I made my way back to bed only to wake up to Hallie an hour and a half later. After getting things cleaned up and her settled, Steve took the first shift and I was back awake at 4 for my shift. Hallie finally got to sleep around 4:45 and I jumped back in bed as quickly as possible. Cannon's cries disturbed my sleep at 5:45 and I was back up.
Luckily - this was just one night in my motherhood journey. However, one night can derail a whole weekend of plans!
Posted by

Kara Pothier
at 10:58 PM
No comments:


Links to this post
Thursday, August 1, 2013
This is definitely going in my office.
Posted by

Kara Pothier
at 10:42 PM
3 comments:


Links to this post
Sunday, May 12, 2013
I can never let this day pass without acknowledging the mother that raised me. The mother that never ceased teaching or loving me despite exhaustion and frustration. The mother that knows just how to comfort me. The mother that sacrificed continuously to ensure my growth and enjoyment. She is an amazing mother. And I'm sure if I asked her, she would describe her mother the same way. And if I called my grandma, she would probably say the same about her mother as well. And it makes me realize these traits describe mothers everywhere in every generation of time.
Now, as a mother of three I more fully understand what being a mother entails. And although I thought I had a good idea from my mother's example, I had no idea just how hard it would actually be. There have been many days where I was done and ready to throw in the towel. It's not easy or nearly as rewarding as blissful minds imagine. But I know what I'm doing is important. These three little humans call me mother and believe I can solve all of their problems. What a responsibility and special gift.
Because the motherhood journey is often overlooked and belittled, I find comfort in those that teach and praise motherhood. The following quotes have touched me in this particular stage of my life and have reminded me of the important mission I'm fulfilling.
"If you are still in the process of raising children, be aware that the tiny fingerprints that show up on almost every newly cleaned surface, the toys- scattered about the house, the piles and piles of laundry to be tackled will disappear all too soon and that you will - to your surprise - miss them profoundly."
--President Thomas S. Monson
You rock a sobbing child without wondering if today's world is passing you by, because you know you hold tomorrow tightly in your arms.
--Elder Neal A. Maxwell
In speaking of mothers generally, I especially wish to praise and encourage young mothers. The work of a mother is hard, too often unheralded work. . . . Do the best you can through these years, but whatever else you do, cherish that role that is so uniquely yours and for which heaven itself sends angels to watch over you and your little ones. . . . Remember, "To every thing there is a season, and a time to every purpose under the heaven.
-- Elder Jeffrey R. Holland
Motherhood is more than bearing children, though it is certainly that. It is the essence of who we are as women. It defines our very identity, our divine stature and nature, and the unique traits our Father gave us.
--Sister Sheri Dew
I am impressed by countless mothers who have learned how important it is to focus on the things that can only be done in a particular season of life. If a child lives with parents for 18 or 19 years, that span is only one-fourth of a parent's life. And the most formative time of all, the early years in a child's life, represents less than one-tenth of a parent's normal life. It is crucial to focus on our children for the short time we have them with us and to seek, with the help of the Lord, to teach them all we can before they leave our homes."
--Elder Russell M. Ballard
Posted by

Kara Pothier
at 11:16 PM
1 comment:


Links to this post
Monday, April 8, 2013
Two weekends a year, we watch 8 hours of "General Conference" from the comfort of our home instead of going to church. We listen to the Apostles and Prophet speak to us on a variety of topics.
Every conference there are a few talks that stand out to me. Talks that hit close to home or perhaps talks that stirred feelings of action or emotion. And like every conference, I wait anxiously for the transcripts to be posted online to read and reread talks that touched me. Like any young family we had plenty of distractions and noise which made it difficult to concentrate, but I heard what I needed to hear, I always do.
Here are a few quotes that stood out to me more so than the rest:
Although sick children threatened our bi-annual breakfast with Steve's brother - the show must go on! Hands down my favorite breakfast of the year and neither Steve nor myself were about to miss out! We eat the same thing every conference and I wouldn't change a thing about it. (although in October fresh squeezed orange juice is in limited supply and we settle for the store bought stuff!)
Posted by

Kara Pothier
at 12:15 AM
No comments:


Links to this post
Thursday, January 31, 2013
I used to think the only redeeming quality of February was that it was a short month. I don't live in a cold climate anymore and I've grown rather fond of the month of love. In fact it's one of the best weather months of the year in Arizona. Always a reason to celebrate!
Our family is going to share the love on Monday. We've had several people in the neighborhood lose their spouse over the past year and I've decided our family night will be dedicated to them. I drew a sign for the kids to color on Sunday - which will be dropped off on their doorstep Monday with...a moonpie. No, I've never tried one and yes they look absolutely disgusting, but the name is so fitting, I couldn't help myself!
Hallie watched me draw it out and waited patiently looking over my shoulder, waiting for me to finish. She wanted to color one right then and I was not working fast enough for her. She decided to go outside and play; she drew her own version in chalk on the patio.
DOWNLOAD COLORING SHEET HERE
Posted by

Kara Pothier
at 10:31 PM
No comments:


Links to this post
Monday, November 19, 2012
I'm realizing more and more as I work with the youth in our church, building strong confident men and women is not an easy task and I worry as to how I can build that confidence in my own children. They are pushed and pulled in every direction and being happy with who you are is no small task. I taught a lesson on Sunday titled, "The ability to succeed" in which the lesson focused on seeing the good in ourselves, and with a strong conviction of who we are, it will enable us to be more successful.
We started out by talking about the things within us we don't like. For example, my feet are large, I'm overly sarcastic, my hair is naturally a lion mane and I lack patience. Some things on my list will never change, some can be changed with money, and some I can really work at and over time possibly change. Through our discussion we came to understand we're often most discouraged when we compare ourselves to other people which is an on-going battle for many. We are always trying to keep up - but with who? There will always be someone smarter and richer and prettier and funnier...by comparing ourselves to them we will always be left discouraged and disappointed in ourselves and our abilities.
Each girl took a turn standing in front of the chalkboard as we wrote many of the attributes we love about them around the board.
And even as we did this exercise, several girls started to disagree with things written and were even uncomfortable. It is so hard to hear good things about ourselves. It is our nature (some might claim it as humility) to degrade ourselves, our talents and achievements. But we each have so many good things to offer and are so much better than we give ourselves credit for. Too often we view ourselves as the ugly duckling instead of our true potential as a swan. It is clear, I will have my work cut out for me as a mother as I help my children to see their reflection as a swan. (Who am I kidding, I have to work on this just as much for myself!)
In order to believe in yourself, you have to be you.
Posted by

Kara Pothier
at 10:25 PM
2 comments:


Links to this post
Wednesday, September 12, 2012
Steve often recites this quote.
Steve reads from a very limited genre, so I was curious as to where this quote, that he always recites, came from. I asked him last week and he told me that he was raised with a father that often recited this quote to him - he had no clue where it came from, but it's stuck with him and they are words he lives by. After hearing him say this for years, I too have found myself reciting it on a number of occasions.
I like to quote it especially when I hear anyone use the phrase, "Well that comes easy to you/them" or even when I look at someone else and think the same thing. Most things we work on long enough become easier for us - as long as we're persistant.
I'm hoping this applies to motherhood!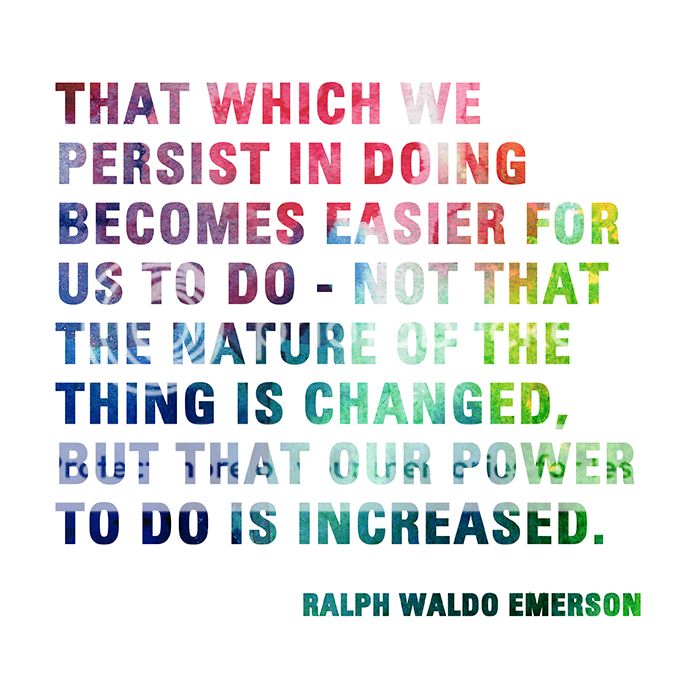 Posted by

Kara Pothier
at 11:37 PM
3 comments:


Links to this post
Wednesday, May 30, 2012
I am generally a happy and content person. And sometimes as a mother, I've got it. You know what I'm talking about - the groove. Things just work. Kids are happier, I'm happier and life is grand.
But these moments are slippery and hard to hold on to.
Before long I'm breaking up another fight between my children. No matter how many times I sweep the floor in one morning, I still walk through crumbs in my bare feet. And I look in the mirror at the end of the day and wonder who's tired eyes are staring back at me.
Sometimes the "mommy-guilt" creeps in as I feel as though I'm not matching up. I'm not matching up to my own silly standards. Standards that I've set from my associations with other mothers and the overflowing number of perfect mothers I seem to come across through blogs and pinterest.
I tend to get caught up in the mentality that I can do it all. And I know with time and effort I can do it all. I want to paint a room, build a bed, cook a five course dinner, play with my children, pay attention to my husband, have quiet spiritual moments for myself, fold mounds of laundry and in addition spend hours on the computer. And I can do every single one of those things. But not all at the same time. I always tell myself I need to simplify. I try really hard and I truly believe I am making progress, as small as that progress may be. But I've got a long ways to go.
Here's to a simple and content summer!
Posted by

Kara Pothier
at 11:22 PM
1 comment:


Links to this post
Thursday, March 15, 2012
This will be going up on my wall soon:
In hopes of reminding me that these days are numbered:
Posted by

Kara Pothier
at 11:25 PM
No comments:


Links to this post
Wednesday, February 15, 2012
I love this quote.
I love it for it's simplicity and for it's deep rooted truth. There are a whole lot of people out there that are suffering on a myriad of different levels. Life is not easy.
This quote has been on my mind a lot this week as my thoughts and prayers go out to a family in our church congregation who lost a loving father and husband in a tragic accident. That poor wife lost the love of her life but will have to continue in her every day life.
She will likely be at the grocery store next week picking up something. By then, her puffy eyes will have ceased and she will look like every other woman in that store. But inside her heart still aches and she will still be in desperate need of comforting.
So be kind.
Everyone is fighting a hard battle.
Posted by

Kara Pothier
at 10:25 PM
1 comment:


Links to this post