Last year we spent our first Christmas on our own. Hunter had been born just three months earlier and we were tired of holiday travel, packing and unpacking gifts, but more importantly we were ready for our own family traditions. So we started out by writing down all of the crazy ideas we thought would be fun and in the end chose a few and ran with them!
So this year we hosted our second annual Christmas eve extravaganza, joined by many of our best friends here in Wisconsin (30 people to be exact, and no our home is not very large). We had a nice traditional turkey dinner with more food than we could handle followed by a kids gift exchange.


We saved room for a little dessert and the presentation of the nativity and reading of the Christmas story.
In my family growing up, we always read the story, but never dressed up. But Steve's family dressed up, so we took that as one of our traditions. After hosting last year and trying to outfit a cast for the nativity, I asked my mom if she would make some costumes for me for Christmas. She started working on them early in the year and much to my delight I opened them on Christmas Eve morning and was so excited to dress the kids up. They were perfect. I couldn't have asked for a better gift. I just wished I could've got a picture of all the kids together in the costumes. This is as close as we got. There's always next year…


After our friends returned to their homes for their own traditions, we had Hallie open her Christmas pajamas and we read "Twas the night before Christmas" (Don't think we left Hunter out…he was not feeling well and he was in bed just minutes after our first guests arrived, but don't you worry, he too was sleeping in wonderful Christmas pajamas!)
With Hallie in bed and Steve on his way to bed (he was a little tired and not feeling well) I went to work with my duties as Santa and spent time wrapping last minutes gifts, stuffing stockings, and building Hallie's gift…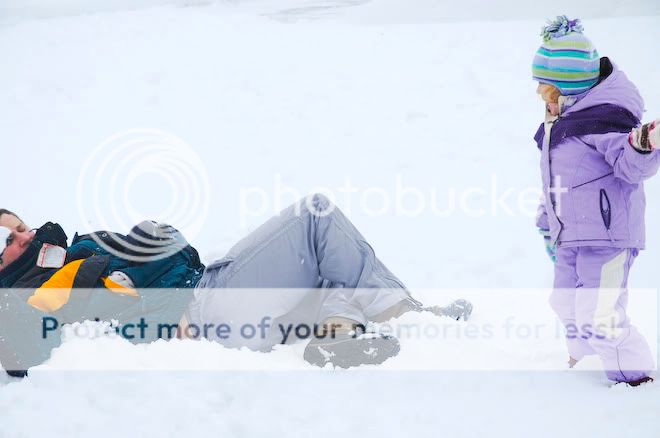 Hallie and Steve spent the morning of Christmas Eve shoveling the walks and playing in the snow.