Over New Years all of Steve's family got together in Arizona for a grand party. We, as usual, were unable to attend. But everyone kept talking of a dodge ball game they played with discs, and how much fun it was. Steve and I were so bummed that we weren't there to share in the fun that we determined we needed to buy the set of discs so we could play in Wisconsin. We talked about it and then didn't discuss it again. I went to work researching it, making some phone calls and located the company that sold them (a P.E. equipment supply) and placed an order for 64 discs.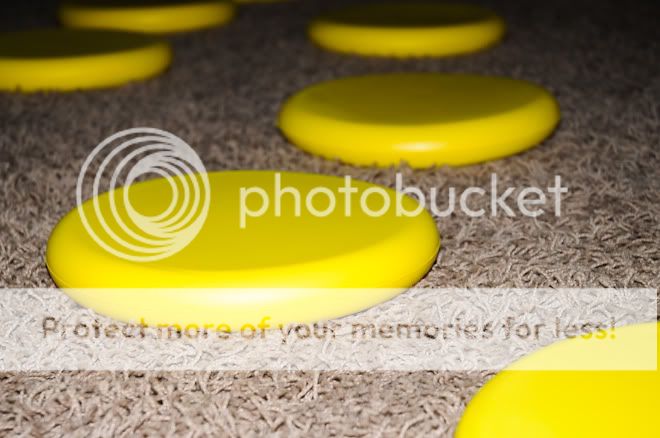 I surprised Steve with them for Valentine's day by putting them all over the house.
We gathered a group for Friday night to try them out and we had a blast. The discs are just hard enough that you can really get some good speed throwing them, but they don't hurt too terribly bad when you get hit. We gathered some great competitive players and packed in game after game (of course with brief intermissions of food and beverage!) I was surprised at how tiring it was. There was definitely sweat involved.
That night Steve and I sat on the couch too sore to move. Yes, too sore from dodge disc! It's nothing to be ashamed of. I just didn't realize I had so many muscles I hadn't used in such a long time!
It was a lot of fun…I'm already planning another dodge disc night!