One project down, many to go!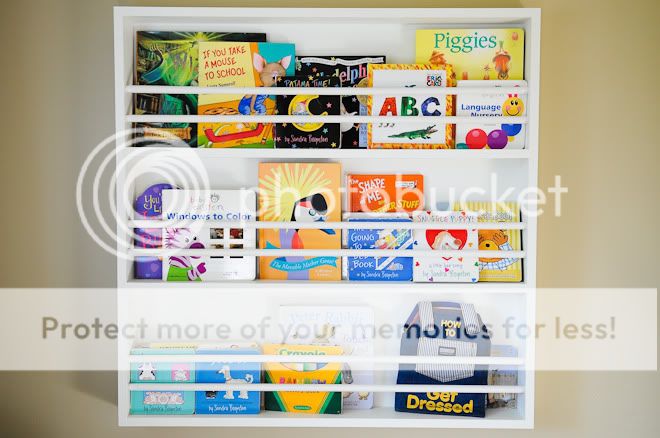 I made this bookshelf a while back and never got around to posting it. I told myself I needed to complete this smaller project before I tackled larger furniture pieces. It was some good practice and made me realize, with enough precision and patience I could probably make a lot of things!!
I found a bookshelf I really liked online – pottery barn kids – and using the dimensions they provided I made my own plans. I think I spent more time altering my own plans than I spent actually building!
The key to this project's success was very carefully hand selected pieces of wood. I used 3 1x4x6, 6 dowels and a thin sheet of luan plywood for the back. I made sure the boards were really straight without any knots and paid a little more for a nicer wood.
Here's how you make it:
I cut 4 pieces 35 3/4″ (top and bottom and both sides) and two 34 1/4″ (middle shelves) out of premium select pine from the Depot.
After cutting all the pieces, I drilled the holes for my dowels on both of the side pieces using a wood boring bit. (You can get them for pretty cheap at the depot.)
I then primed my whole project and painted the two middle shelves as well as all the inside boards.
I left the outside primed so I could fill my nail holes and sand it down. You can build it and then paint if you'd like, it was just easier for me to paint it not put together and then just touch up the little areas that needed it.
Originally I was going to use large screws to keep it together, but I changed my mind and used large nails in my nail gun. They made for smaller holes to fill!

It went together fairly easy. I used a nail gun and used 4 nails on each shelf as well as the top and bottom boards. (You could also use screws, I just found the nailer easier to use) I used a smaller pin nailer for the dowels, but you could also just use wood glue. I filled my nail holes with a wood putty and sanded it down and put a coat of paint over it. You can attach it to the wall a number of ways. I used a little kit from the depot for a french cleat. Very easy to attach and hang on the wall.

And there you have it.
I love it. I love that the books are no longer thrown across the floor. And I love that it holds a lot of books without looking messy. I think I might make a couple more. I love it that much!