Two days after the Man-cation we had a special visitor…Miss Brimley, our neice came for a little visit. She is a senior in high school and had never been to Milwaukee. So, we welcomed her with open arms!
We went to the beach one evening and brought along the BBQ. There is something very relaxing about sitting on the beach as the sun goes down with a tasty dog in one hand and juicy watermelon in the other.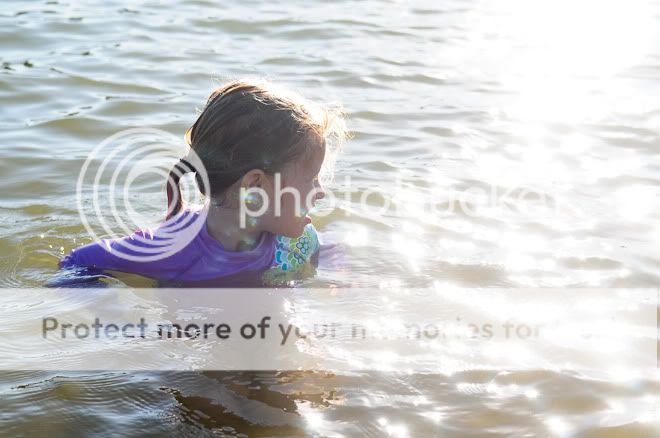 We've only made it to the beach a couple times this year, which is a huge disappointment. And now it's closed. For the season. Boo.
We had big plans for Brimley. We were going to do this…and that…see this…eat that. But unfortunately plans don't always go as planned.
Thursday evening we started experiencing severe storms and heavy rains. It rained and rained. We were upstairs getting ready for dinner and Brimley commented on how flooded our lawn was already. It kept getting closer and closer to our home. Brimley ran downstairs to get something and she yells up the stairs, "Guys there's water down here."
There was water. A lot of it. We've never experienced anything like this so we weren't really sure what we should do first. We started pushing the water towards the drain but it wasn't going down, it was coming up through the drain. We realized we needed to get everything out of the basement. I stood there for a second looking at our basement that was only two years old full of water and a tear rolled down my cheek. Steve, who was more than a little stressed out at the moment noticed my single tear and quickly snapped, "Crying is not going to help the situation Kara." He was right. I had my 4 second cry and that was it!
We have a lot of stuff in the basement. Furniture, rugs, toys, electronics, food storage…and the list could go on and on.
Unfortunately, the whole area was hit so bad, that there weren't a whole lot of people we knew to come help us that didn't experience flooding themselves. Luckily, we had two friends that were able to help us out: Kasmers and Taintors. They logged a lot of hours and we appreciated all the help they offered.
We got the majority of all our stuff out and we did everything we could to save the carpet. This is what we did all night long.


After exhaustion set in at 1 am, we went to bed. At 2 am we got up and vacuumed more water that came off the carpet. At 4 am, we vacuumed some more. Again at 7 am. It was a long night. Our backs were sore and tired.
After meeting with our agent in the morning, we realized we were covered through a flood policy we added just a year ago. We were unable to get the carpet even somewhat dry so we had to get rid of it. We spent the next day cleaning, throwing out a lot of stuff and moving stuff to an off-site storage unit. Amidst all the chaos, we still had our special visitor Brimley. We felt so bad. This was not anyone's idea of a good time. So we worked really hard all day Friday so we could take a break that night and enjoy some dinner downtown. It felt good to be showered and out of a house that smelled so bad!!