Almost two weeks ago we packed a couple suitcases and made our way to Arizona. Steve had already been enjoying the beautiful weather and I wasn't about to let him enjoy it a second longer without us!
So the Sunday before Thanksgiving, we arrived. We were tired, stressed, and the kids had both been fighting colds for the last couple days. We were exhausted. As usual, we had an eventful flight as our head winds pushed our flight from 3.5 hours to almost 4.5 hours in the air. Somehow, Hunter managed to choke on a cracker which combined with his cold led to some disastrous projectile throw-up. All over himself, the carseat, with the majority falling on Hallie who was sitting next to him. It was in her hair, all over her coat, down her knee-high boots, she was swimming in it. With the most scared little voice she says to me, "Mom, I can't even look at it, or else I might throw-up." I was counting my lucky stars that Steve had assisted me on the flight.
By the time we got off the flight Hunter was running a fever and was miserable. We got settled in Arizona for the night and by 4 o'clock that morning I was on my way to Wal-Mart to grab some medicine for him. I could feel my immune system breaking down by the second. And it wasn't long before I was fighting the same cold the kids had been fighting. Days passed and I just couldn't kick it. The cold got worse, my throat felt on fire, my head ached. Each day my sleep declined and my exhaustion increased.
My nightstand looked like this: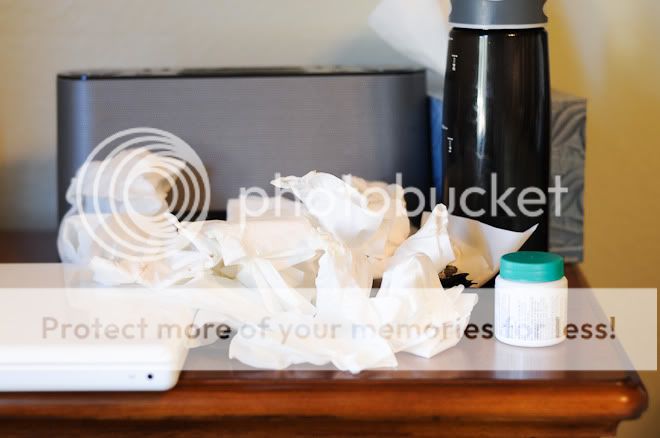 Finally after 8 days, I was done. I just wanted to sleep without waking up every hour to blow my nose. And to add to it, I started to get a toothache. The timing was not ideal, but fortunately my mother-in-law suggested a sinus infection which would cause the toothache. I was able to get into a doctor yesterday to get some medicine, thank heavens.
I still feel like I've been hit by a train. Hopefully day three on the meds will be good to me. I've yet to be able to enjoy the beautiful weather that surrounds me, but that will soon change.
The only thing I will miss…the countless cards that Hallie makes for me to get better soon. I love them.