Want to know where one of the most beautiful places in Idaho is?


McCall, Idaho.
McCall is about two hours from my home town and we would make that drive several times a year for different reasons. McCall was in our athletic conference so every sport had to play one game in McCall, also McCall was in our stake for church (boundary) which meant we had several activities a year there, including girls camp, but rarely did I spend much recreational time on my own there. I took for granted the beauty of the area when I had such easy access to it growing up.
While in Idaho visiting family, we made a three day trip to McCall to visit our good friends the Owens also visiting from Nebraska. Her family grew up with a cabin there and we were more than excited to experience the area with her.
Our first mandatory stop was the Pancake House. Between all of our orders, I tried a lot of items, and none of them disappointed. I ordered their famous cinnamon roll (because I'm a sucker for those things!) and it was the size of a large dinner plate. No joke. And I ate the majority of it. No Joke! And if I could, I'd go tomorrow morning and order it again…and I'd also order the McCall omelet.

We played on the beaches of Payette lake, which kept the kids busy for hours. (which in turn gave us plenty of conversation time). Side note: it is one of the coldest lakes I've been in. Even in the heat of the summer, it is frigid. Then again, I'm a bathwater temperature kind of girl. The lakes in Wisconsin would eventually warm up for me to jump in, but it was a very short window. Arizona has been kind to us as the pools are heated by the extreme heat to near perfect temperatures. There was no way I would be taking a dip in Payette lake!

We did get slightly wet as we played on some jet skis and let the kids go out on the tube, but with only a couple limbs wet, the water was manageable!

We ventured out to Ice Cream Alley, which is quite literally what the name implies; an ice cream shop in an alley way.


Great use of space if you ask me and I would have been pleased as punch to frequent the shop every day if we had more time! They had a great variety of flavors and gave generous helpings. Hallie's eyes about fell out of their sockets when she saw they had bright blue bubble gum ice cream! Every kid's dream! I'm just wondering why they have to make it that crazy blue that inevitably stains clothing – because what kid can eat it without getting it on them? But the smiles are worth it I suppose…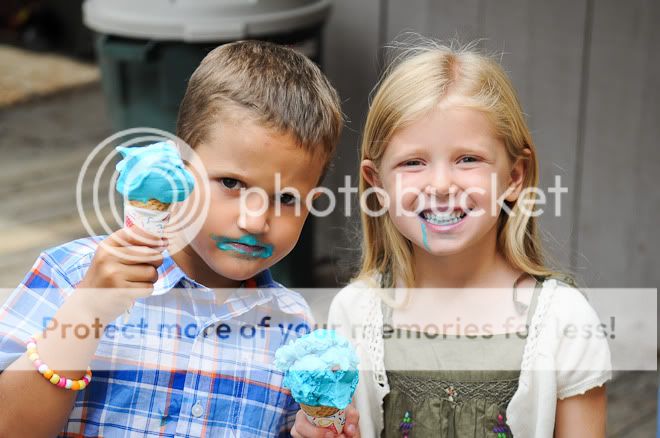 We were able to hang out, enjoy the scenery and some amazing friends. The kids all kept each other entertained and I love how well they've line up thus far. (Including their baby girl who will be born shortly and will be the perfect playmate for Benentt!)


We were recapping with the Owens family all the places we've met up with them over the years. We visited Washington DC when they lived there, they visited us in Milwaukee, we met up in Nauvoo, we visited them in Nebraska and we met up in McCall. We're hoping that our summer trips to Idaho will line up in the future as well! We are so blessed to have such wonderful friends, looking forward to years of family trips together!