Christmas was awesome. We were excited to be in our own home, and really we could've wrapped most of our boxes and unwrapped the things we hadn't seen in a year. But what fun would that be??
We spent Christmas eve surrounded by Steve's family and two special visitors, Cameron and Kaytlin. We came back and celebrated the rest of the evening with just our small family. We drove around and saw Christmas lights, we did the nativity, drank hot chocolate and ate panettone (peru tradition) and let the kids light some sparklers, followed by "Twas the Night Before Christmas" and our annual Christmas jammies. And then they were tucked away to dream of sugar plums.


Christmas morning lived up to all the hype. It's easy to please your kids when they ask for gum and trains. Definitely something we could handle!
Bennett spent the morning like this before he became too angry and we put him down for a nap.

Hallie and Hunter enjoyed every single gift and spent sufficient time with each gift before moving on to the next one. We played with toys, looked through books, put on chapstick and then repeated it all over again.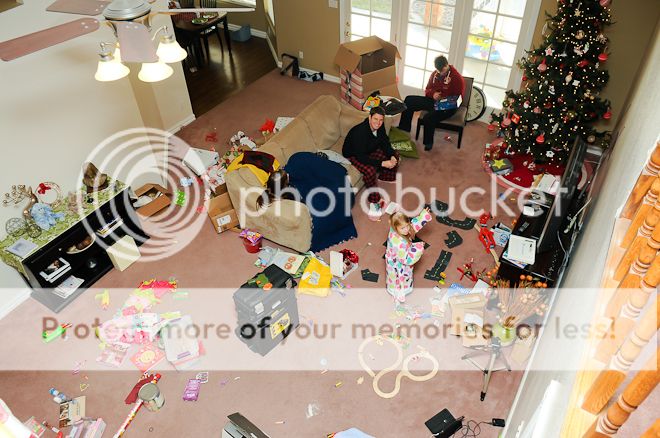 After all the presents were opened we hosted Steve's brother's family for Christmas brunch. There are very few meals that I really look forward to – but Christmas brunch is one of them. French toast from homemade bread, fresh squeezed orange juice, egg casserole, monkey bread and sausage…you can't go wrong.


We were able to attend church with family as well and listen to Steve's parents share a Christmas message.

It was a grand day. Steve expressed that it is his favorite when Christmas falls on Sunday – so this year was indeed a favorite.
We feel so blessed this holiday season and have much to be grateful for.