We bought a victorian home that had little swirly do-dads in all the corners and peaks. Steve and I were not digging on all the swirls.


So when my parents came to visit (more on that later) I put my dad to work removing all the swirls. My mom informed me that the correct term is not swirls – but instead "gingerbread". I questioned her knowlege on the subject but she seemed more than confident. I later googled it and it was no surprise she knew what she was talking about!!
So it seemed fitting to remove all the "gingerbread" before the holidays…or at least before we paint the house next week. With a crowbar and hammer in hand, my dad went to work on the demolition – sadly no picture. I will admit, I was extremely nervous to see my dad straddling the roof at the highest peak, leaning over to remove some of it. And although there were plenty of nerves, I was overcome with gratitude that it wasn't me leaning over the edge of the roof.
After all of it was torn off, we then went to work repairing the surface.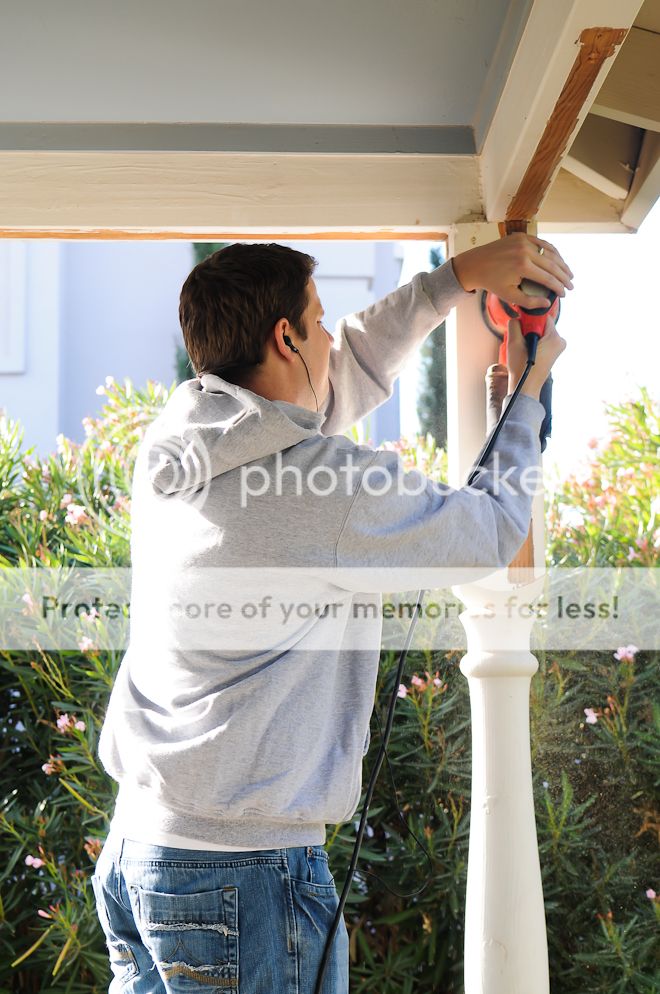 In the process we had plenty of people comment as they were passing by – mostly positive. However one lady was a tad disappointed. "But they've been up there for over 25 years!" Then they were due for a makeover!
I'm loving the new look!


Now off to pick a paint color to further update the home!
I'm thinking a warm gray…more neutral than the current cottage blue. Hopefully I can get some paint swatches on the wall tomorrow because painting starts Monday. I'm giddy!
Thanks again dad!
(A further tribute post will come shortly for all the projects he helped me complete!)