If I ever find the time and energy, I would like to create a complete homemade Christmas, where all gifts are made with love. Because I understand my limitations, I've altered that dream to one homemade gift for each family member. This is becoming increasingly more difficult the more kids we have and the older they get. Obviously I need to start thinking more creatively and start much earlier. A personal fan favorite that I've used in the past (here, and Hunter received his Gospel ABC book last year) is a personal printed book from blurb. In fact, it worked for me two times this year.


Hallie received a Book of Mormon Stories book. The church used to produce a group of pictures called the "Gospel Art Kit". They contained pictures from all the scriptures with their story printed on the back. Unfortunately, the church no longer makes those kits, but their information was so valuable. So I took it upon myself to make my own book using the pictures from the kit and their coordinating stories, so Hallie could read it during church, and I love the way it turned out.


Steve received our 2007 blog (the first year I started blogging) in printed form. It is so much fun to go back and read through those entries – it confirms the need for constant journaling, I love that we have it all on record. The first couple years of marriage, I made a yearly book for Steve for Christmas, and then I slacked for a couple years. So I'm back in it and have big plans for getting caught up! I designed this book in Adobe InDesign and then uploaded the PDF version to Blurb. They have great prices and you can't beat the quality.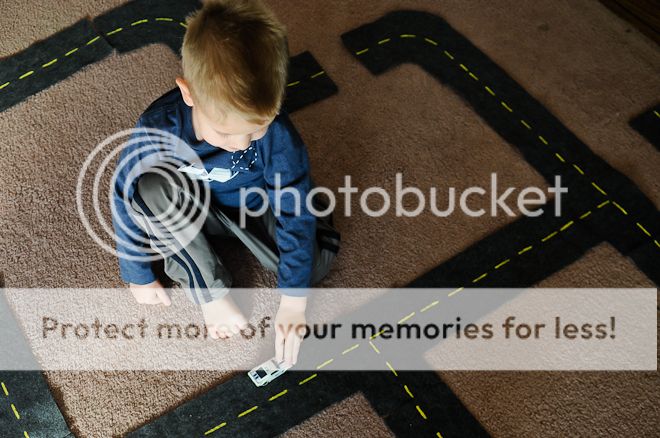 Hunter has an obsession with planes, trains and cars lately, so his homemade gift was simple. I bought charcoal felt and cut them into 5″ x 13″ pieces and then created some curved and "T" pieces as well. I bought some yellow craft paint and painted a yellow dotted line down the middle of each one. Maximum time spent – 2 hours. And they were a huge hit. They don't take up a lot of space and better yet, they don't hurt if you accidentally step on them.
As for Bennett – well his tag blanket never got finished – it's cut and ready to go, but his injury set me back a bit and I didn't get it finished. Luckily, I had the other gifts ready to go by them time the wheels fell off the wagon!
I'm already thinking of next Christmas – maybe two homemade gifts a piece…perhaps a lofty goal, but those are the most fun trying to attain!