Steve's work is a mystery to the kids. They see him leave in the morning, they see him come home at night and the only thing they understand is he works with pet products. When we walk into a PetSmart, they ask if dad works there. I'm sure they envision their dad mastering the cash register, scanning with precision.
We thought that by taking them to his work, they would get a better idea. But I think we skewed their vision even more. We attended the annual family party hosted by Steve's work. We showed them his office and his reptiles (here) and then we went and enjoyed the "Western Round-up".
The kids received some western wear and we mingled through the crowds from old time games and photos to face painting and fantastic food. The kids were really enjoying themselves.

Then we stumbled upon "Kids Corner" where the fun really started for them.
The petting zoo was a hit, surprisingly enough Hunter participated even though he gets scared when he sees a dog.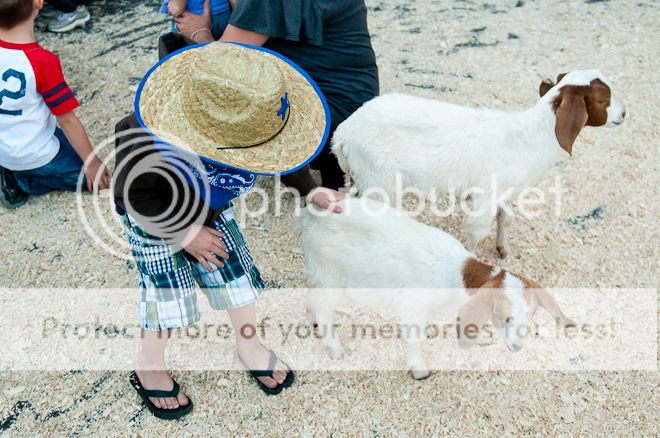 The train ride was enjoyable.

But hands down, the horses were the favorite – even more so than the unlimited old fashioned ice cream. Even Mr. B got in on the action!

As we were getting ready to leave, we were faced with reluctant and tired children. Hallie grumbled that it wasn't fair that dad got to work there. We tried explaining that dad's work wasn't always this fun, but I could see the picture she was working up in her head. Her dad rushes off after breakfast every morning so he can take a quick ride on the train and make a mad dash to pet the rabbits and goats only to to spend his lunch break taking casual pony rides. In her mind, her dad is living the dream! There was nothing fair about it!
One day she'll realize just how fun computers and spreadsheets really are!