Bennett is a kid who knows what he wants and his Valentine's box was no exception. He wanted a shark. There was no need to look on pinterest, he had a plan and part of the plan was handing out gummi sharks (the valentine Hunter handed out last year) to go along with his shark themed box. We used an oatmeal canister and a light blue poster board. This took approximately 20 minutes. Bennett doesn't mess around, he gets stuff done!
Call me crazy, but it makes my heart happy when the valentine matches the valentine's box. It's only happened a few times over the years because the kids choose them both but when it works out my graphic design heart is happy!
Hunter handed out fruit roll-ups this year with, "Valenetine, I like the way you roll."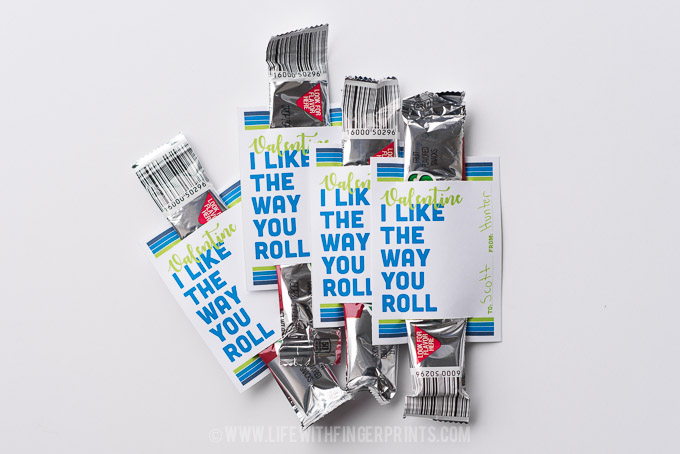 Hunter had decided on making a birthday cake for his box. Little fact – Arizona's birthday is on Valentine's day – I was not aware of this until Hunter completed his project. I wish I could describe an easy way to duplicate this project but we lucked out with a run to Goodwill. We were looking for a round hat box, or paper mache box. We found a couple that would work and then Hunter came across this wooden piece and he didn't let go of it.
I'm not sure what it was used for before, but It turned into the perfect little birthday cake. To make the top, we just took some foam core board and cut a circle and then covered it in red paper with matching red paper on the side of the cake. I love it when projects morph and change into something better than originally planned.