I know college football isn't for everyone (hard to believe) – but for us it's a family affair. We enjoy college football as a family. We follow teams. We celebrate wins. And we mourn the losses. What can I say, we are committed.
We are committed to watching games at home – following teams we've grown to love over the years – Saturday afternoon is for folding laundry and football.
We are also committed to the Sun Devils. I wish they were better than they are – but we are committed because we live close, we have tickets and it's something we all enjoy doing.
We are so committed, we attend early season games when it is down right miserable outside. How miserable you might ask? When it's 107* at 8:30 at night – and your clothes stick to you when you stand up from the metal seats. Not going to lie – its a little miserable. But look at all these happy sweaty faces! (minus Hunter who was at a swim birthday party which sounded infinitely better than a hot and sweaty stadium!)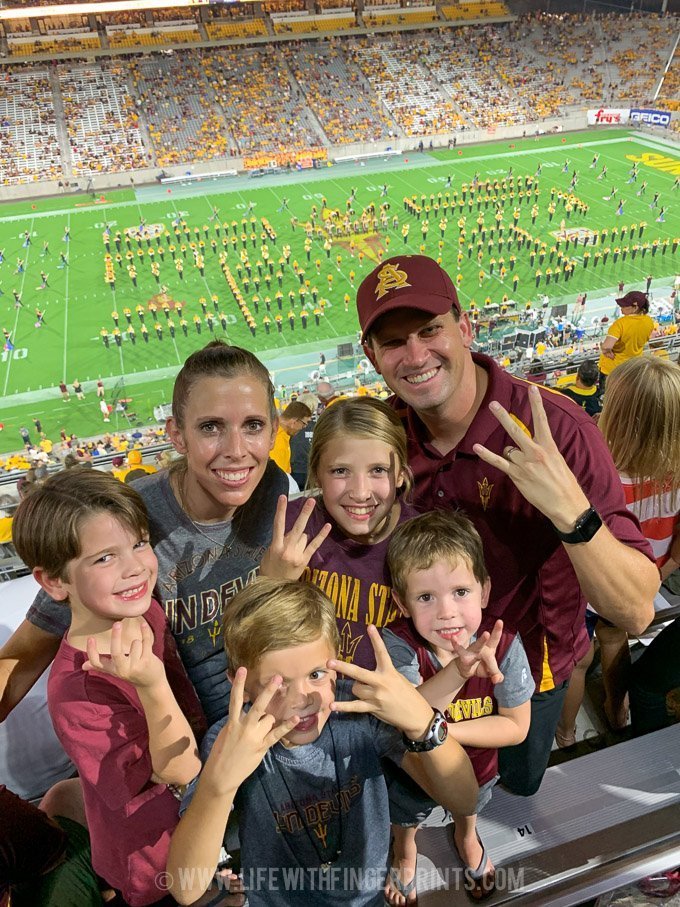 Looking forward to the game this weekend when it's a high of 95 – It will feel dreamy!
Here's to another amazing college football weekend. Good luck to your favorite teams – unless they're playing ASU, Boise State, Wisconsin or BYU! 🙂