Last year was Hallie's first year at girls camp and I was lucky enough to help plan the camp and experience it with her. It was a camp neither one of us will ever forget.
This year, she was on her own…at least for the first two days before Steve and I were asked to go up on the third day and help out.
We were hike leaders for the "intermediate hike" – which ended up being a beautiful 5 mile hike with somewhat rocky terrain. I typically like to hike to a destination but this round trip trail hike had some beautiful scenery.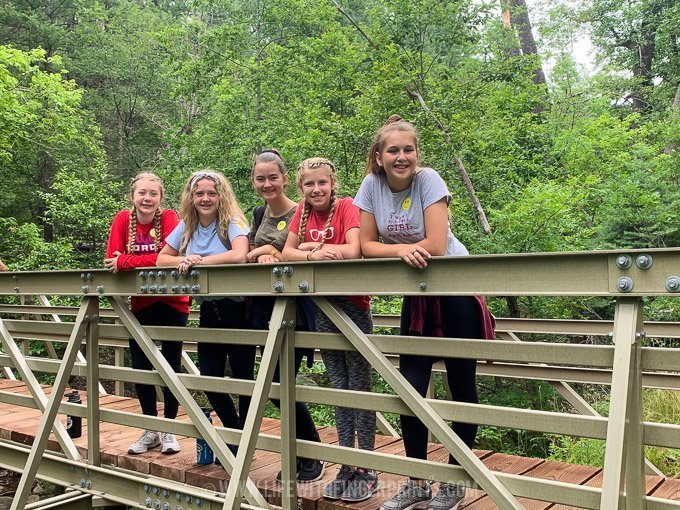 We were spectators/photographers for the water activities – that were planned around really warm weather. The weather ended up being a little chilly/rainy/cloudy but they were good sports to shiver through the fun.
I decided I need a bubble machine – oh the fun we could have!
We participated in a fireside, nightly games and Steve was lucky enough to land a role in one of the groups' skit – I would show pictures but I don't want to make anybody jealous of his mad skills. 🙂
I thought this activity was particularly interesting. Earlier in their stay at camp, the girls were each given a 6″ square that had a paint by number pattern on it. The girls used qtips to paint their little square. Some squares were mostly white, or blue or green and others blended all the colors onto one square – I'm sure many of the girls thought their painting was pointless as it didn't represent anything when they were finished.
The night we were there, they unveiled a large abstract picture of the Savior holding a lamb in which each girl played a small role in painting. There was an audible gasp from the girls as they saw the final product. Suddenly the waste-of-time craft they did early at camp had more value: They were part of larger picture and what girl can't benefit from that thought. It was a tender moment that everyone could feel.
We had a great time at camp. Going for one day to help out is way easier than planning camp – but I would be lying if I said I didn't miss it. Makes me even more grateful I had the opportunity last year!