It is time for another Scott update! It's been almost 2 1/2 months since his accident and by every account he's a walking miracle – he has come so far and surprised everyone including doctors along the way.
When he was in the coma, we visited him regularly. The boys weren't able to go see him but they made posters to show their love and support and hung out in the waiting room of the hospital.
We went to visit him the day after they brought him out of the coma. He was in so much pain and so uncomfortable. He was hot and then cold and then hot again. Steve and I used whatever we could find to help cool him off while his dad went to go find a fan.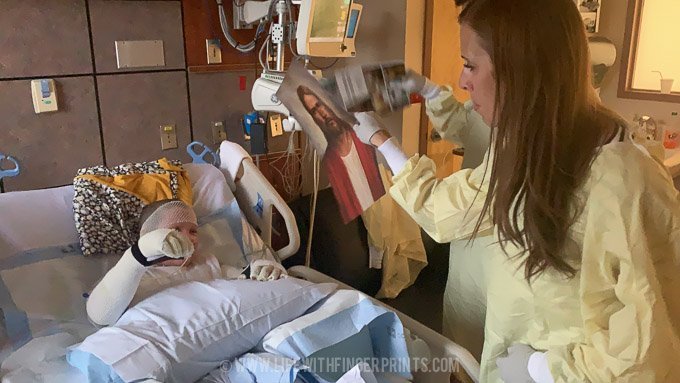 We have had so many sweet moments with Scott in this process. One came that first day we visited him after the coma. At some point in the visit, Scott needed to go to the bathroom. I decided it was a good time for me to head home, we had been there for quite a while. I was telling Scott that it was time for me to go and with hardly any voice he whispered "don't go". I explained I was going to need to leave because he was going to the bathroom. Again, in the faintest voice, "Just go in the hallway and then come back in." He could've asked me to do just about anything at that point and I would have obliged!
Another highlight was when we started letting the boys see Scott through facetime phone calls. They would sit out in the lobby and talk to Scott from just down the hall. There was laughing and plenty of crying. Scott couldn't communicate but I think he enjoyed watching his silly friends.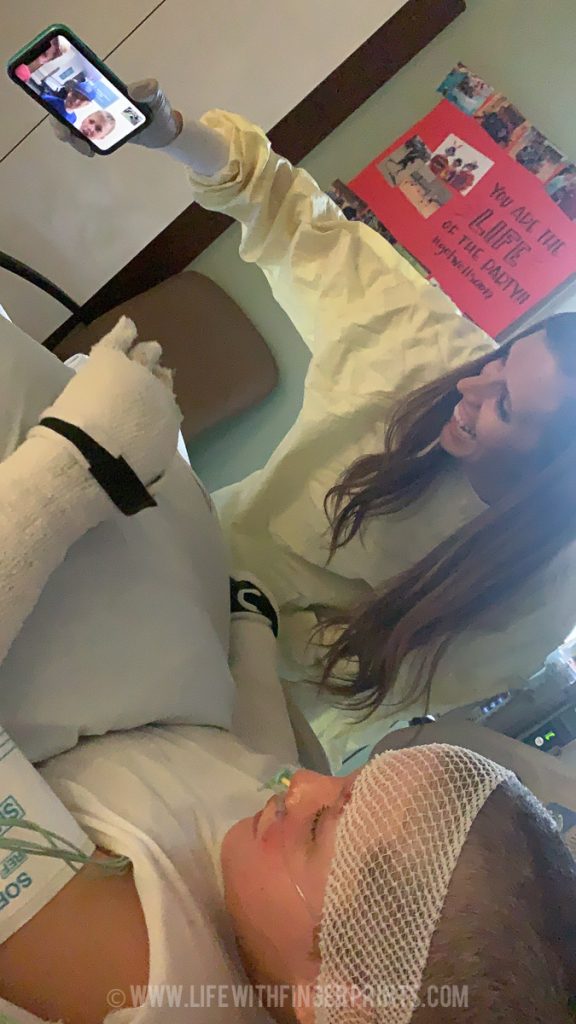 Each time the boys went to visit, they wanted to do something for him. This particular time, they were creating a playlist for him to play in the hospital room.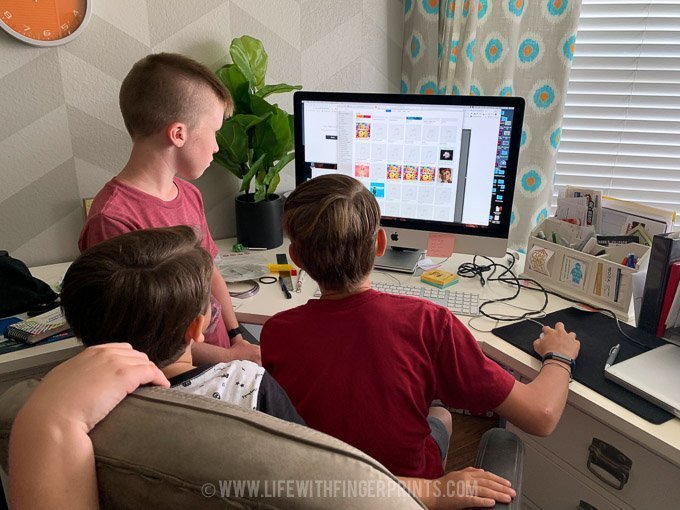 Then they finally got to see him in person. The team of doctors allowed him to go to a lobby area so he could see his family and close friends. This was a harder day for Hunter than I expected. He had a hard time talking with Scott – he didn't know what to say. He didn't want to talk about sports or school and make him feel bad, which left him at a loss of words. He finally found his groove talking about past memories together.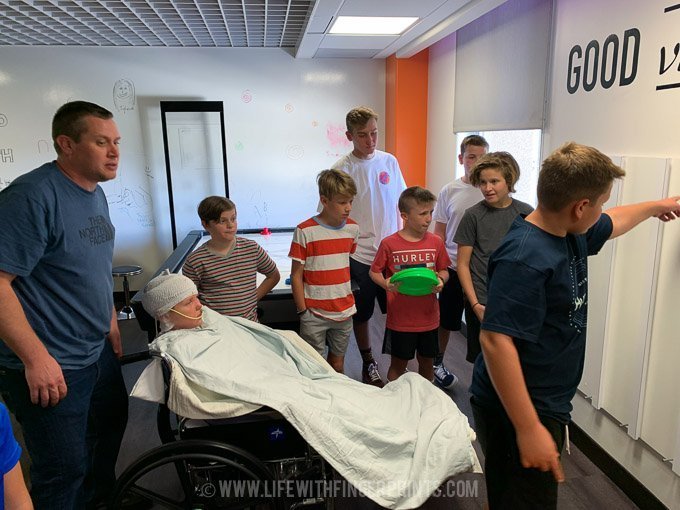 A few days later we threw an epic hospital birthday party for him. This is the first day we started to see the old Scott again. He smiled. His eyes seemed to have a little more life. And all these kids were so excited to visit him.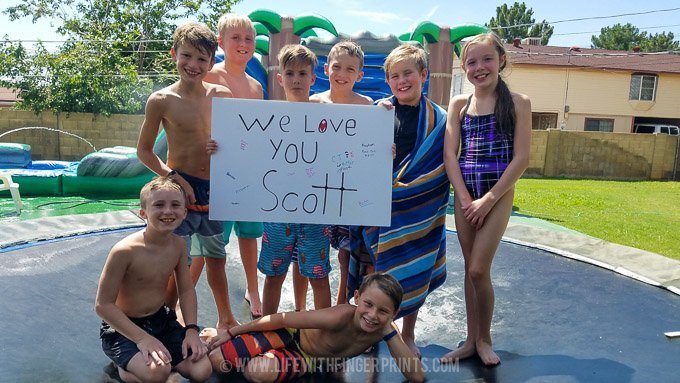 If you ask Hunter, the true highlight of his recovery came when they moved Scott out of ICU and suddenly they could visit whenever they wanted. And they went multiple times a week. Bless those sweet nurses who put up with these boys playing and goofing off in their patient's room. Scott would come alive every time they came for a visit and there always seemed to be a new game they could play with him for his therapy. There was a lot of basketball – and we thought it was only fair if they played basketball in the same purple gown that Scott had to wear. Even more fair when they would shut their eyes!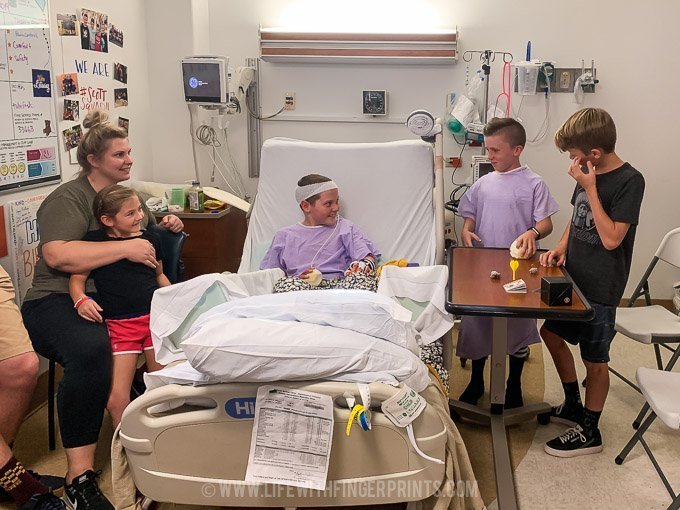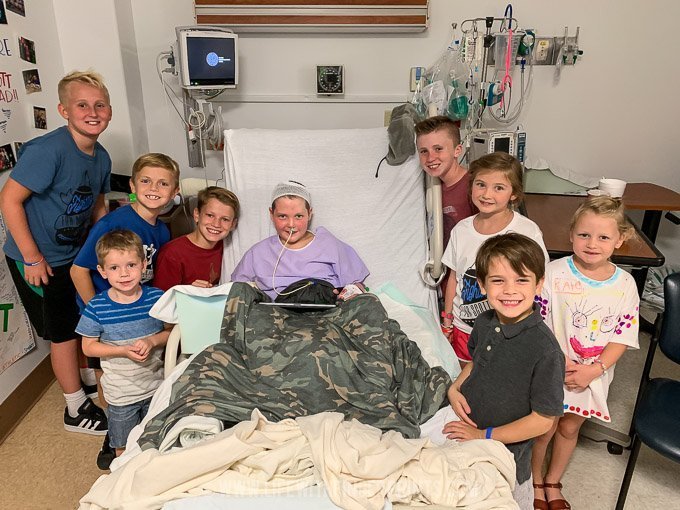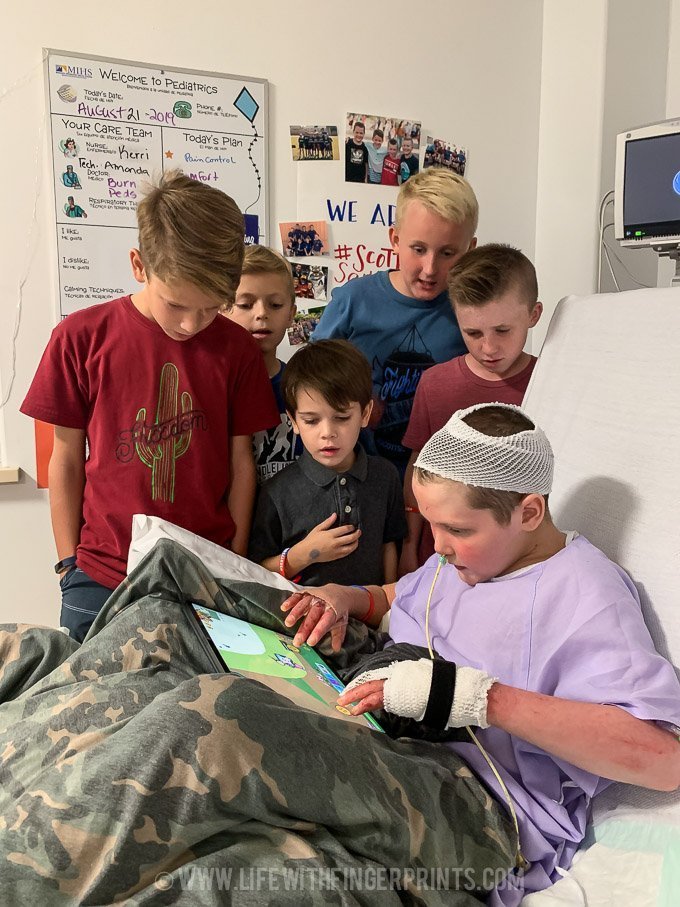 Nothing brings kids closer together than serving one another and they've all taken turns rubbing his feet and scratching his back and grabbing whatever he needed.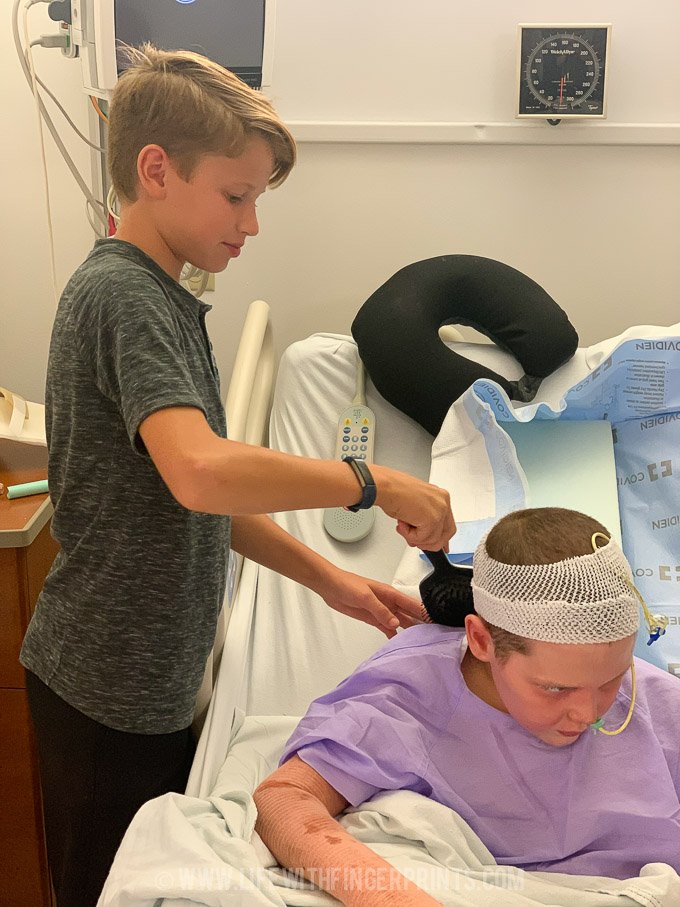 There have been countless fundraisers held on his behalf by so many loving friends. Hunter went to work doing lawns.
These cute neighborhood girls made and sold green salsa as well as bagged and sold pebble ice. They made their delivery to hospital and Scott was pleased to have these cute visitors.
I have loved getting texts during the day when he hits milestones like making his way around the hall or getting dressed and sitting in a chair for the first time. These texts meant that there was progress. And every text meant he was one step closer to coming home.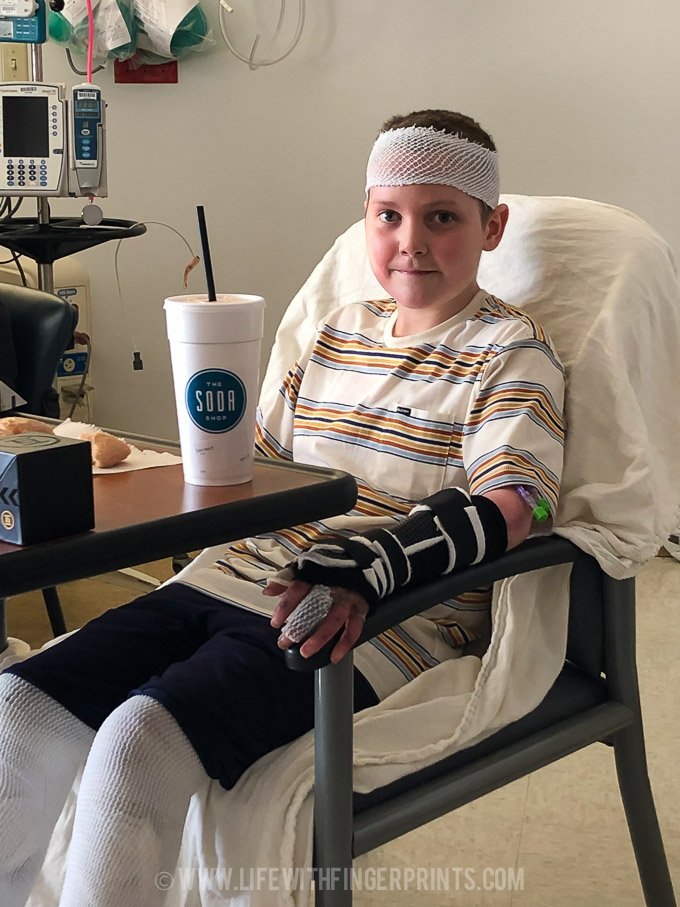 You better believe, when I got the text a few weeks back that he was going to be discharged and to keep my afternoon/evening free for when he finally makes it home – we were there.
With tears in my eyes I watched him slowly get out of the car while this loving group clapped and cheered for him. I had flashbacks to that very first time in the hospital when we saw him and he was unrecognizable. He is proof that miracles happen today. All the prayers and good thoughts were felt by this grateful family.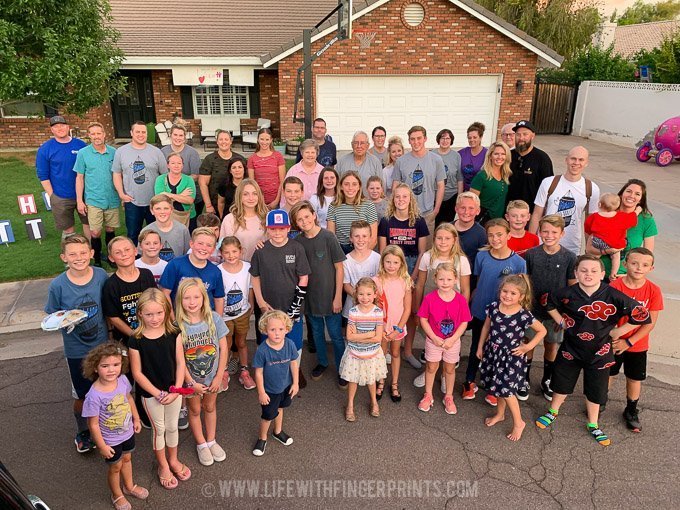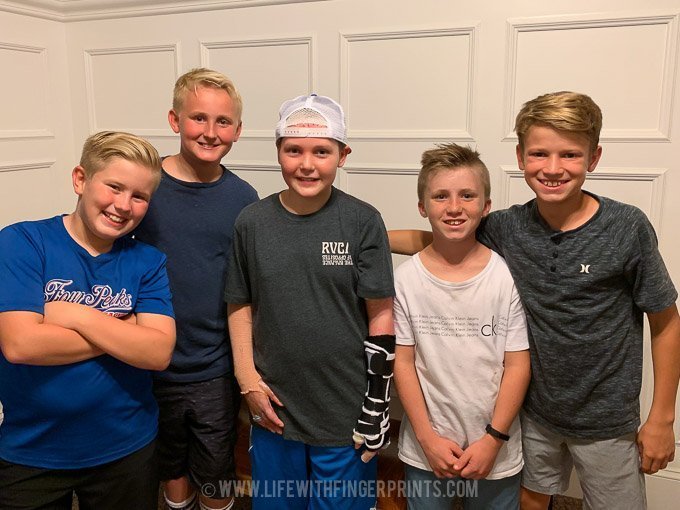 It was a happy day when Scott entered our home for the first time in a long time (the accident happened just two days after we got home from our long summer trip and he was supposed to play at our house the very night of the accident). The whole family was so excited to see him and play with him.
Hunter and his friends are learning how to play with him in new and different ways than they used to and it's truly tender to watch. I think tragedy and hardship often bring out the very best in people – I know that's been true in this case.