I have been going to the elementary school for the last 9 years for their Halloween parade and this is the first time I didn't have any other kids in tow. (Briggs was at preschool) As a mom was running around after frantically looking for her toddler I thought – I have totally been there. This year that was not me! 🙂
I already showcased our family Halloween costumes – the Stick figure family. We love family costumes and our kids are always so excited when we dress up as a family. But this year, our neighborhood party was the weekend before Halloween (usually its on Halloween) which is when we dressed up as a family. But we weren't going to be all together on Halloween – so everyone chose something to wear from the attic from our previous family costumes. So although we only wore the stick figure costumes once this year, they'll go into the attic and somewhere down the road someone will pull them out again and wear them!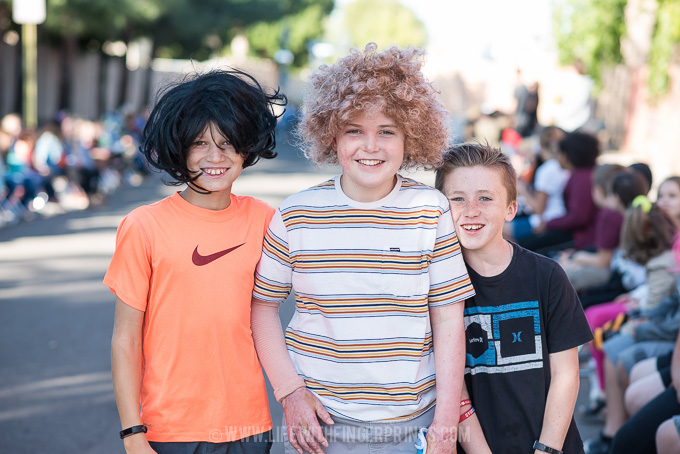 Briggs had his own school parade where they walked around sining all the fun/spooky songs they learned.
Bennett chose to dress up in Hunter's old Colonel costume (from our fast food theme)
Cannon and Briggs both chose from the same year, Fairy tale stories – Princess, Dragon and a Knight. Cannon is the third child to wear this costume, thank you Pottery Barn Kids!
That night we ate dinner at a friend's house and then made our way back home trick-or-treating along the way. We made it the 28 houses home and the crew was done. Their little buckets were full and they were ready to call it quits at 6:30. Because they're 3 and 4-year-olds they came home and decided to dump all their candy in a combined large pile. 🙂
Cannon made it another 10 houses before coming back because he was just too tired. Bennett made it even longer with his group of friends and came home and traded candy with friends.
Steve sat with some other dads out on the driveway and handed out candy while watching a football game on a TV they set up outside.
Hallie was with friends and I didn't see her until later that night. I did get this picture from her mom's friend.
Hunter is the one that I have no photographic evidence of his night, which is rare! He had the opportunity to go to the Cardinals game with his "Scott Squad" friends – his first NFL game and it was a complete surprise until he was leaving for the game. I figured he would be bummed to miss out on some trick-or-treating but his love for sports runs far deeper than his love for candy!
That's a wrap for Halloween 2019!