I really thought this was the year that our family halloween costumes would go out the window. I floated a couple ideas by the kids and they didn't bite on any of them, go figure. Life was busy and I was to the point of letting kids pick out of our collection stored in the attic.
I had three kids approach me separately and ask why we weren't doing family costumes. Because no one could agree and we were running out of time!!
I threw one more idea out there and showed some pictures I found as examples and most were sold on the idea. After a decent sales pitch of telling them they could personalize their costume, the last few holding out jumped on board.
I introduce you to the stick family – coming to a mini van near you. 🙂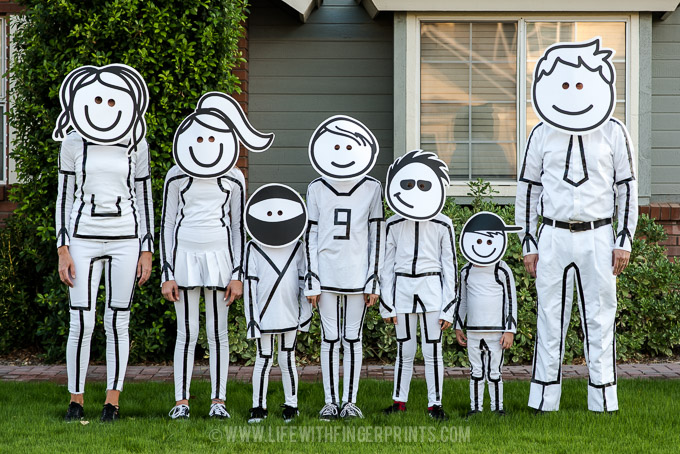 Little Brother Stick Boy
Ninja Stick Boy
Surfer Stick Boy
Soccer Stick Boy
Tennis Stick Girl
Domestic Goddess Stick Girl
Business Man Stick Guy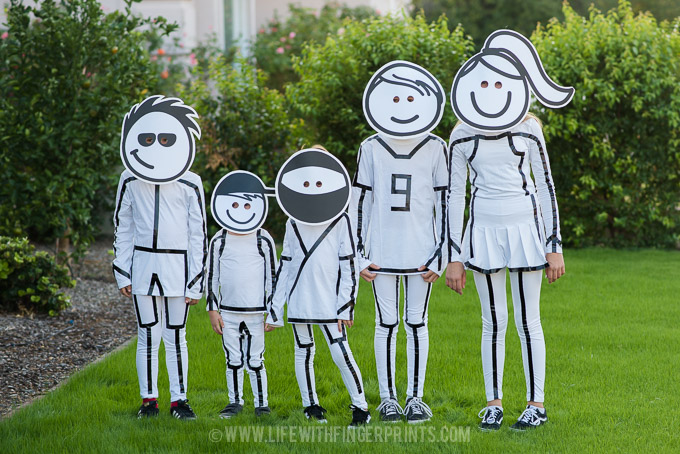 Like I mentioned before, time was short and these costumes were cheap and easy.
Old Navy delivered white leggings for all the kids and Target delivered white long sleeve shirts.
Three rolls of $.97 electrical tape from Home Depot was enough for seven costumes. I drew the heads in Adobe Illustrator and had them printed at Staples as an engineering prints and mounted them on poster board. We attached knit headbands to the cardboard and we wore the headbands like a sweat band which is how the heads stayed in place.
I know our tradition of a family themed costume will eventually die – but this was not the year!