Years ago, I designed a logo for the Gilbert Turkey Trot. That opened a door to my continued involvement which seems to grow each year and for that I am grateful.
There is so much that goes into this event. Meetings upon meetings and a team of people invested in this cause. It is beautiful to watch so many countless hours poured in as a labor of love.
This year we started to get a little nervous a week before the race. Rain was in the forecast and it was looking ugly. We've never had to deal with rain and we weren't sure what we would do. We prayed, ordered ponchos and prayed some more: We just needed a small window Thanksgiving morning!
The night before the race, the kids and I went and worked the packet pickup. And although heavy with clouds, not a drop of rain fell and the clouds parted for the most beautiful sunset.
Of course after everything was set up late that night, the rain came down. But the next morning the threatening clouds just hovered. The sun even peeked out of the clouds a few times. By some Thanksgiving miracle the forecast for absolute rain never came. It didn't rain the whole time we were there, even through clean up. As the last couple people cleaning up drove away late that morning, the rain started to fall. It was a miracle.
Actually, that night, in that parking lot at the mall, a tornado touched down ripping out 20 trees and caused some building damage.
Even with threatening rain – we had the best turnout we've ever had and even more money was raised for AzBrainFood and Families Fighting. Blindness.
The family showed up from near and far – all of Steve's siblings were together – and supported Lucy and her cause. Steve, Bennett, Cannon, Briggs and myself ran the one mile family run. Hunter stepped it up a notch and ran the 5K (thanks to soccer he's in great shape) and Hallie conveniently missed both runs and ended up at the family booth helping with cousins.
We saw Steve's brother and sister for the first time since their arrival and it made for a sweet reunion.
Steve, with all of his brothers and brothers-in-law. (Oddly enough in this picture they're split evenly – four brothers-in-law on the left, four brothers on the right.) Eight of them in total and when they get together they laugh and laugh – they think they're all pretty funny and their comedic timing is something else.
The gratitude wall is always my favorite every year. Its fun to read all that people are thankful for.
Even Briggs tagged the wall – with his own name – the only thing he really knows how to write.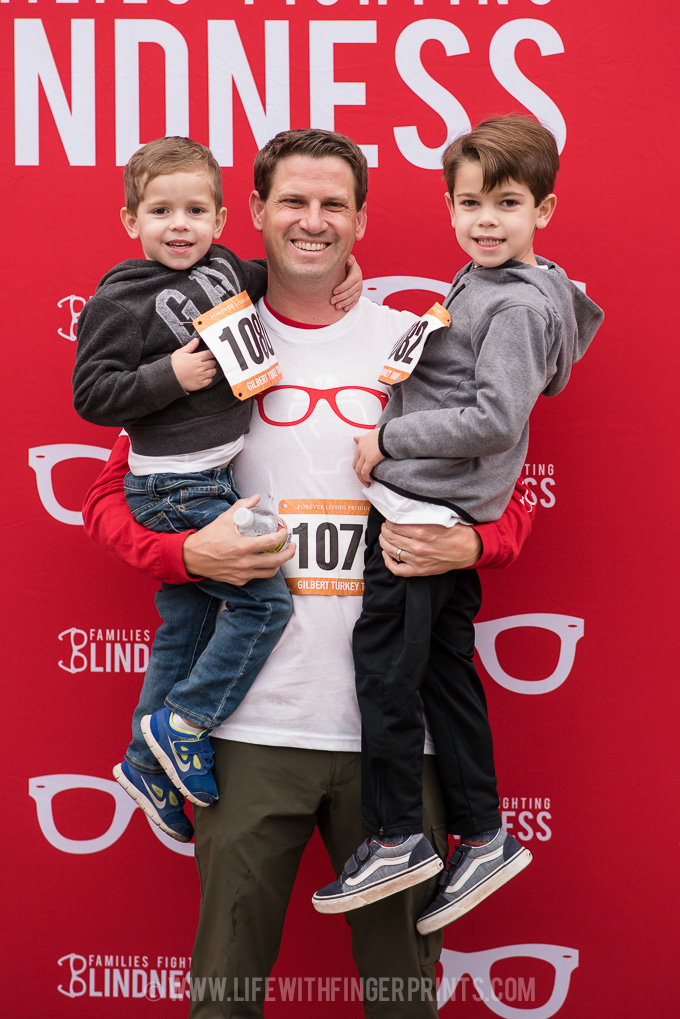 Being in this place surrounded by so many family members wearing their white shirts with red glasses was a beautiful feeling. We are family but we are also a community and when all together, we're quite the sight. Hallie and I were some of the last to leave and I looked around in amazement at the empty streets. They were crowded just an hour before and with an army of volunteers the whole thing was torn down in no time. My heart was full. And tired.