I love a good project and I have a lists of home projects I've completed over the years. I'm not a fan of hiring things out unless I have to because I often see the finished product and think, "I could've done this and it would've been cheaper and I would have given it a little more attention to detail." And then there's some projects that I know my limits and I know there's no way I would be able to do it with any degree of professionalism.
From the day we planned our kitchen, I planned on personally installing the backsplash. But the kitchen was finished and I needed a break from projects, so it went on the back burner. And then a couple months later I thought about it but work was busy…or the kids were home from summer…or we were on vacation…or work was busy.
The bottom line is I never prioritized it. I did other things around the house, I just didn't tile the backsplash. We hit a year in our new kitchen and it was finally time to finish it. But then the turkey trot rolled around and…you get the idea. I realized I wasn't going to get to it anytime soon. So I hired it out. Gasp. And it was hard to do. I looked at a lot of tile jobs and even had people come out to bid it before pulling the trigger on someone.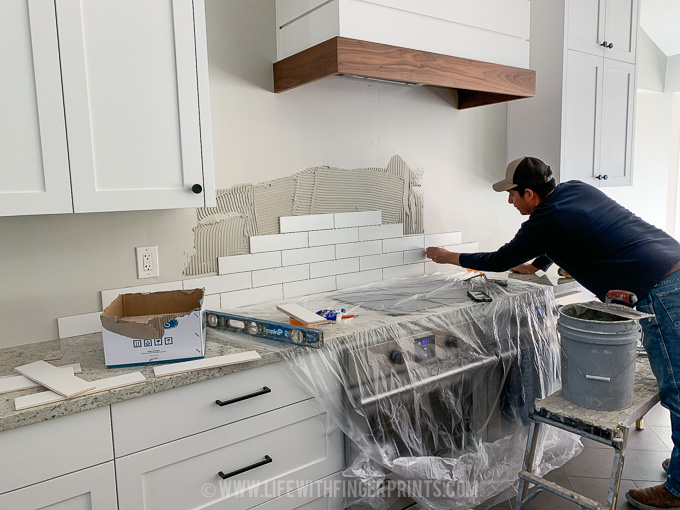 He's actually the same one that worked in our house a year ago during our remodel. I liked him and I liked his work – although I did hover a little. I can't help it, it's in my nature. I want to make sure it's right. And it's a good thing I did – after he was almost done, I was inspecting his work and realized somehow there was one glossy tile among our boxes of matte tile and it had been placed on the wall. Luckily it was easily fixed because the thinset was still a little wet.
I love that it's done. I just need to make the floating shelves now. 🙂