I'm sure everyone across the country could say something similar but Easter looked a little different this year but we loved it still the same. Our traditional "bunny" showed up on Saturday right on schedule. In case you were wondering – yes, they received two flavors of peeps, sour watermelon and root beer float.
Sunday morning we were surprised to find another bunny had made a visit. Bennett was the first to point out he knew it didn't come from us (parents) because there is no way we would give them that much candy. He was absolutely correct. The walkway leading up to our doorstep was littered with candy as well – so much candy! It didn't take them long for the kids to guess who would do such a thing. We are grateful for wonderful and thoughtful neighbors who know how to make a kid's day.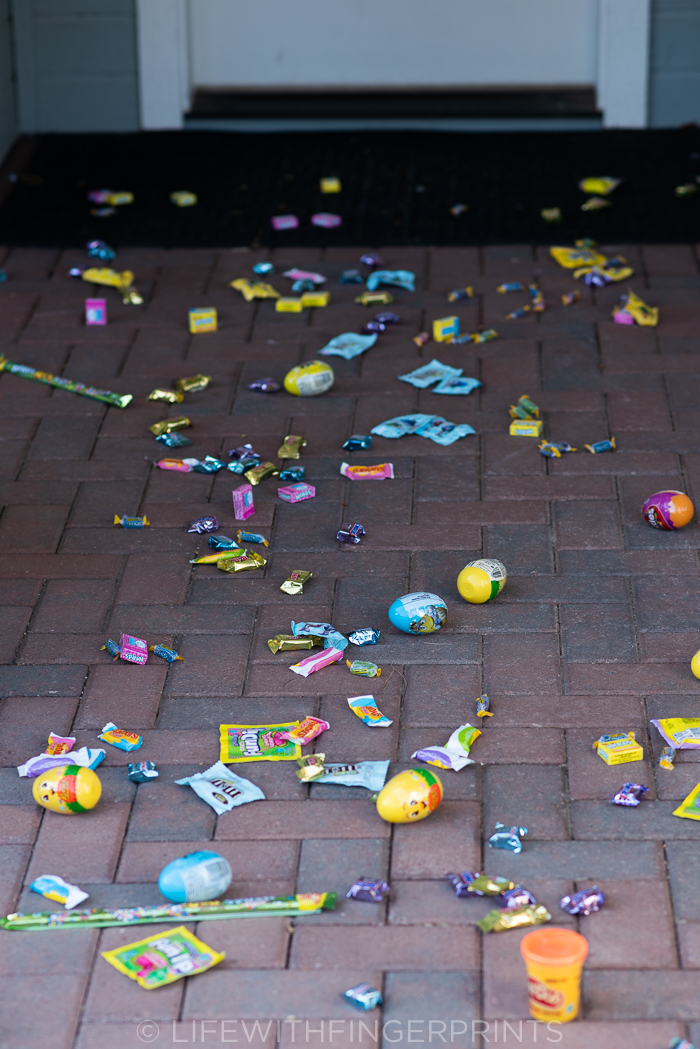 The kids came running out the front door collecting all they could fit in their arms – the Easter pinata! I couldn't not capture each kid with a stash. They were only mildly disappointed when they learned we would only be keeping a portion and then passing some off to other families who would enjoy it!
We had an elaborate crepe bar. Steve mastered what he dubbed the "fully loaded" crepe and the kids waited patiently while he loaded up their crepes. Vanilla crepe filling, strawberries and bananas, topped with whipped cream, nutella, powdered sugar, strawberries, bananas and peanut butter drizzle. I call it the sugar coma. Who needs Easter candy when you can have breakfast!!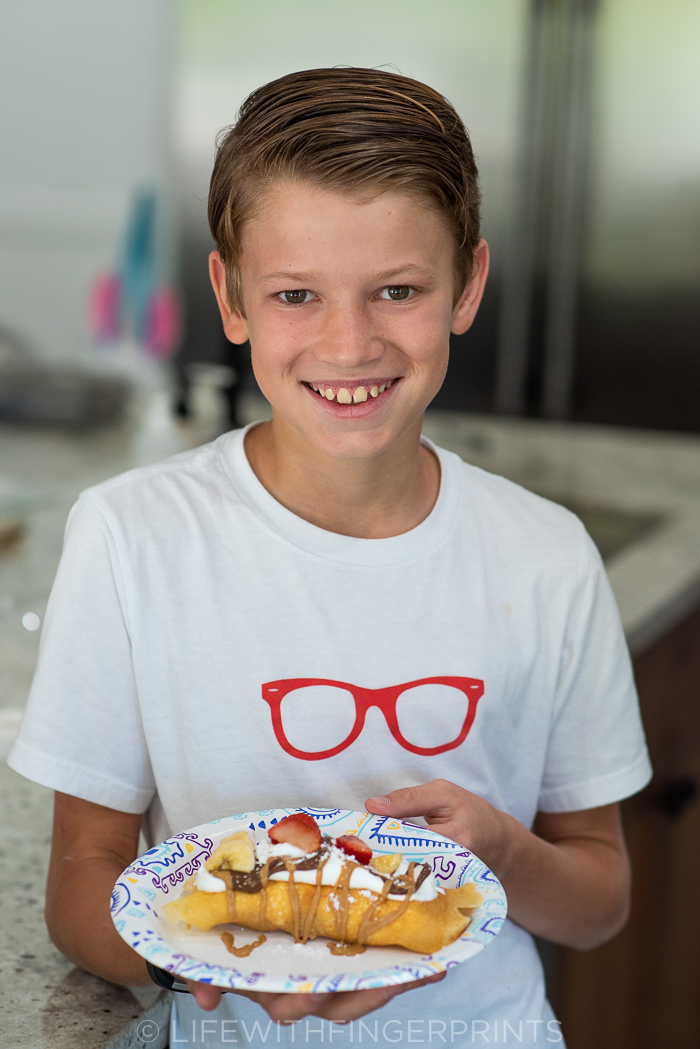 We had a beautiful home church service with Hallie and Hunter sharing talks and Bennett singing "Gethsemane" for our musical number and a little Easter symbolism activity. We talked of Jesus Christ and played music throughout the day to foster that special spirit we had in our little church meeting. It was probably my favorite Easter church yet. Simple. Powerful. It was a beautiful day – but unlike any Easter we've ever had. (And Steve was with us the whole day which was probably the biggest treat for us all.)
In the afternoon we prepped and ate a special ham dinner and then let the kids start their Easter egg hunt.
We typically spend Easter with Steve's family hosted at his brother's house. It's always such a special day and we always look forward to it. But life is different right now and everything we expected life to be at this point has been thrown out the window. Like everyone else, we continue to adapt and roll with it. But if I'm being honest, leaving traditions on the table is a little hard for me. I love them. I love doing the same thing year after year. I love when my kids talk about the traditions they look forward to. Easter is no different.
A few days before Easter as I was outlining the day and making a plan for food and activities the thought of an egg hunt wasn't high on my list. We always do it with cousins and even then it's not necessarily my favorite part of the day. Kids whine because so-and-so got more eggs or being disappointed because somebody else found the money egg from Nana and Papa.
I knew my kids would want an egg hunt so an idea came to my mind and I started running with it. Every kid would have a certain egg color and they would all have the same amount to find. But the catch would be the eggs would be hidden in different front yards (with permission) around our evening walk route.
The kids didn't know this. They started looking for eggs in our front yard and they weren't finding very many. By the time most of the kids had found 3 eggs we told them there was only 3 eggs to find…in our yard. We started walking our route and they were casually looking to see if they could see any. Once one kid spotted an egg in someone's yard they would all run in the front yard looking for their eggs. We ended up telling them how many were in each yard – either 2 or 3 eggs.
I can't tell you how much fun this was! They were hidden based on age so Hallie and Hunter and even Bennett had some hard ones to find. Hunter had one so hard to find, we never found it! And isn't it always the case that everyone can see your egg hiding in plain sight but you?! A few times we had to play hot and cold in order to find some. Steve even narrowed down areas to help the older kids find a few hard ones.
There was excitement. There was laughing. There was frustration. Everything you want in a good egg hunt. Our typical 4 minute egg hunt lasted two hours and each kid only needed to find 16 eggs – eggs they all helped to fill with candy from our doorstep earlier in the day.
It was just the right ending to our day. A day typically steep in tradition looked totally different and yet felt wonderful all the same. The kids are convinced this egg hunt needs to be the new tradition and I think I agree. That's the funny thing about traditions I suppose; they are wonderful and fantastic until you introduce a new idea and suddenly we're okay with old traditions changing.
We love our family and missed them dearly on this day – we long for days when we can gather with them again. Happy Easter – He is risen!