Years ago, Hallie learned how to make a meal we dubbed Hallie Chicken. It's become a family favorite and she makes it about every other week.
Last year, we got Hunter in the kitchen to learn how to make a dinner. He started with Hallie chicken and then we branched out to another recipe. Originally it was called Stacy's Beans and Rice because I got the recipe years and years ago from my friend Stacy. For some reason it got lost in the cookbook and then revived again in the last couple years. When I was telling her how much we love the recipe, she had no clue what recipe I was even talking about. Once Hunter learned how to make it we dubbed it Hunter's beans and rice…sorry Stacy (it obviously wasn't a recipe she used anymore because she didn't remember it!)
This meal is very similar to the meal Hallie makes – a one pot wonder – which makes it easy for kids to make. This isn't fancy by any stretch, but years from now, he'll go to college and he won't starve!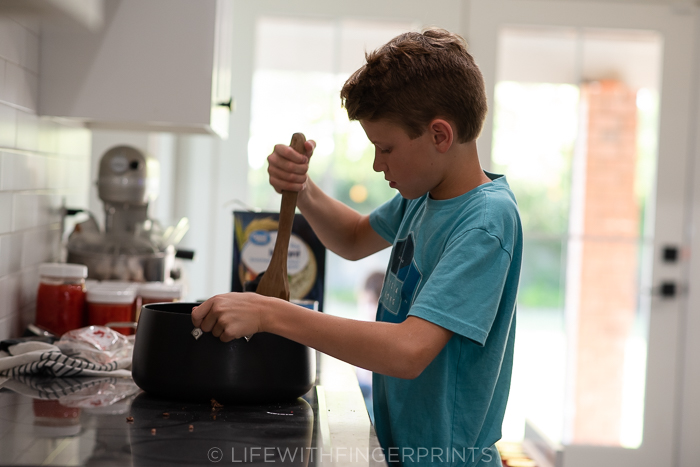 HUNTER'S BEANS AND RICE
1 lb of ground beef
2 cans of dark red kidney beans
2 cups of salsa (16 oz jar)
1 1/2 cup water
2 cups minute rice
1 1/2 TBSP taco seasoning (or to your liking, we like taco seasoning)
Shredded cheese
Cook ground beef (Hunter often throws in some onions with the meat). Drain any fat. Add kidney beans (with liquid), salsa, water, rice and taco seasoning. Cook over medium heat. Cover and simmer, stirring occasionally. Cook until rice is fully cooked and liquid is mostly gone. Stir in cheese to your liking. Use as a burrito filler. Or top with guacamole, sour cream and lettuce and eat with chips. Its not very pretty, but it's tasty!
Note: My family eats this up so we usually 1.5x the recipe, but we don't increase the meat – we increase everything else. For many families this recipe would be plenty, or cut it in half.