As a parents, it is hard to see your kids hurt.
This year, more than ever, we've seen plenty of hurt and disappointed faces.
Hallie was so excited to start her 8th grade basketball season at the junior high this spring. The day after we returned from spring break she was set to have tryouts. But that is when the world came crashing down and sports were cancelled. (At the time, we didn't realize how longe they would be cancelled). She was more than a little disappointed.
And then tennis was cancelled.
Tournaments were cancelled.
She started to have some hope when she started high school this fall and football and volleyball started up. She started conditioning and training for her basketball season and right after October break they were going to have tryouts. Just days before, the tryouts were postponed indefinitely while volleyball and football finished up their seasons.
They finally got word that this week they could start basketball and have tryouts. She had worked all year for this moment. There were no games on the schedule, but they had been cleared to start practicing. So last night she showed up to her very first high school basketball practice.
Towards the end of practice, I got a text from her in which I assumed they had ended early and she was ready for a ride. Instead, she shared that she thought she had broken her finger rebounding the ball and I needed to come get her.
When I picked her up, I could see that she was really hurting – physically and emotionally. And I was hurting for her.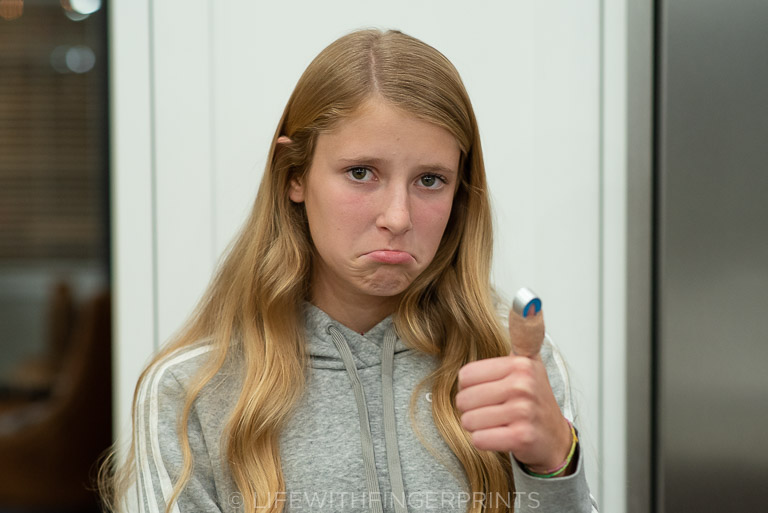 This morning we got x-rays (the third child to get x-rays in 9 weeks) and it confirmed a broken thumb. She had waited and prepared for this very day and in a single moment it was taken away (just like it had been taken away in different ways all year long). The disappointment from last night bubbled to the surface once again this morning.
She'll be out for a few weeks and hopefully she'll be able to return down the road. It's life – but it stinks. It's hard when it happens in a year when everything has been cancelled and she was finally allowed to play.
We just found out Hunter's soccer tournament this weekend was cancelled because the city decided last minute to shut down the fields without any notice. And now there's talk of school going back to remote. Is it the end of the world…no. But it's not great for these kids either – lots of emotions all the way around. It's hard because there doesn't seem to be a whole lot of logic or reason to most things right now and it's hard enough for me to understand, let alone explain to my kids.
For now – we'll chalk it up to 2020. We are ready to seal this year in the book and throw it on the top shelf!