All good things must come to an end – and that includes preschool. I have paid our final preschool dues and I couldn't be happier about the situation. Briggs had his final preschool program and even though I have attended this program 8 different times (two years for each kid) it never gets old. Each kid is so different and their performance is unique to them. Bennett is our most animated kid, but put him on a stage and he goes serious. For some reason, Briggs was trying so hard not to show his teeth and that in itself made me chuckle.
Seeing as though the teacher was retiring on the very last year we needed preschool was no doubt a tender mercy. All my boys went to her and there is one particular song where she invites previous students to the stage to sing along. I was hoping to have all four boys there to celebrate our teacher's final performance, but Hunter knows his recess days are short and he wasn't about to get pulled from school and miss recess.
But Bennett and Cannon were more than willing and they were happy to join Briggs on the stage to sing.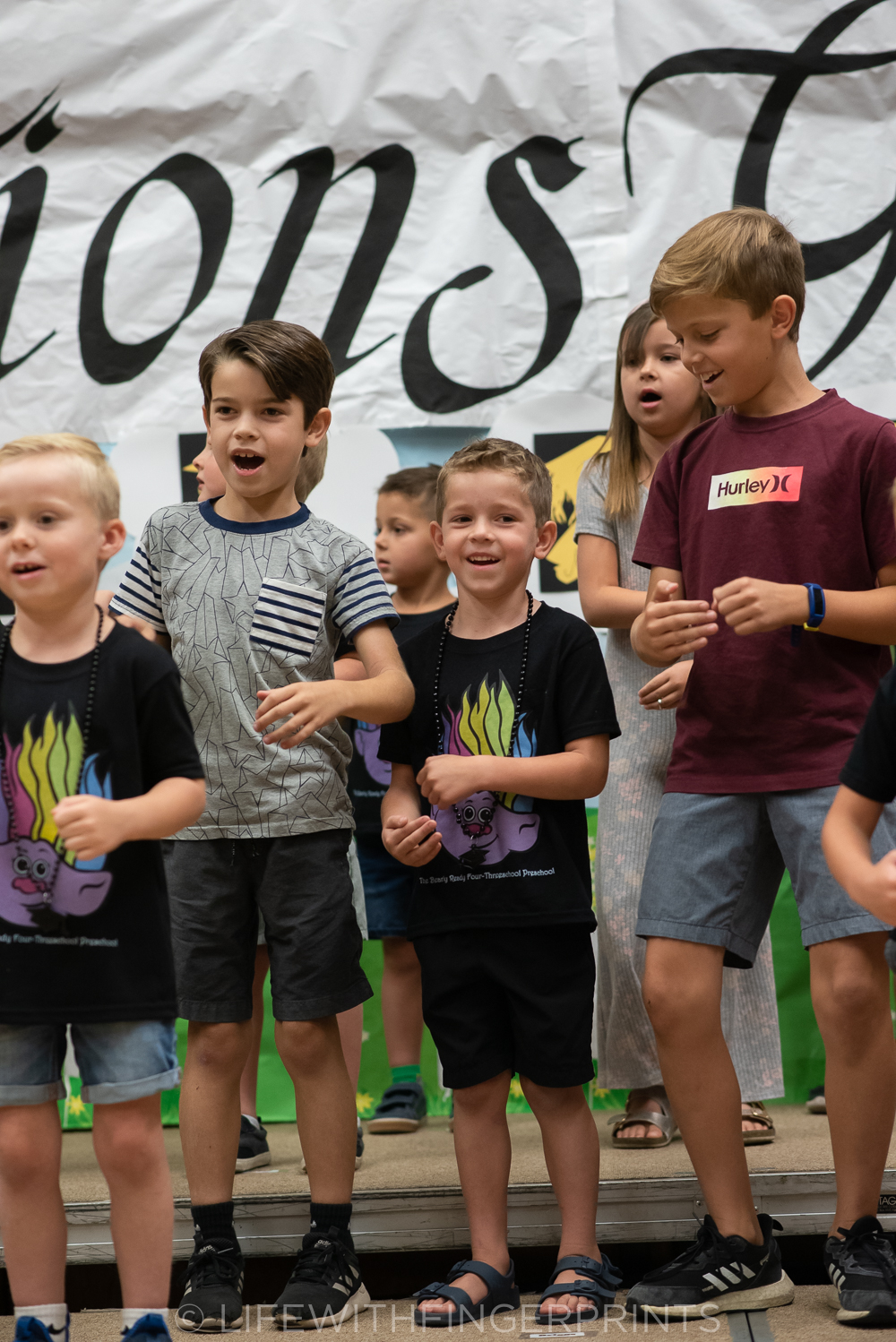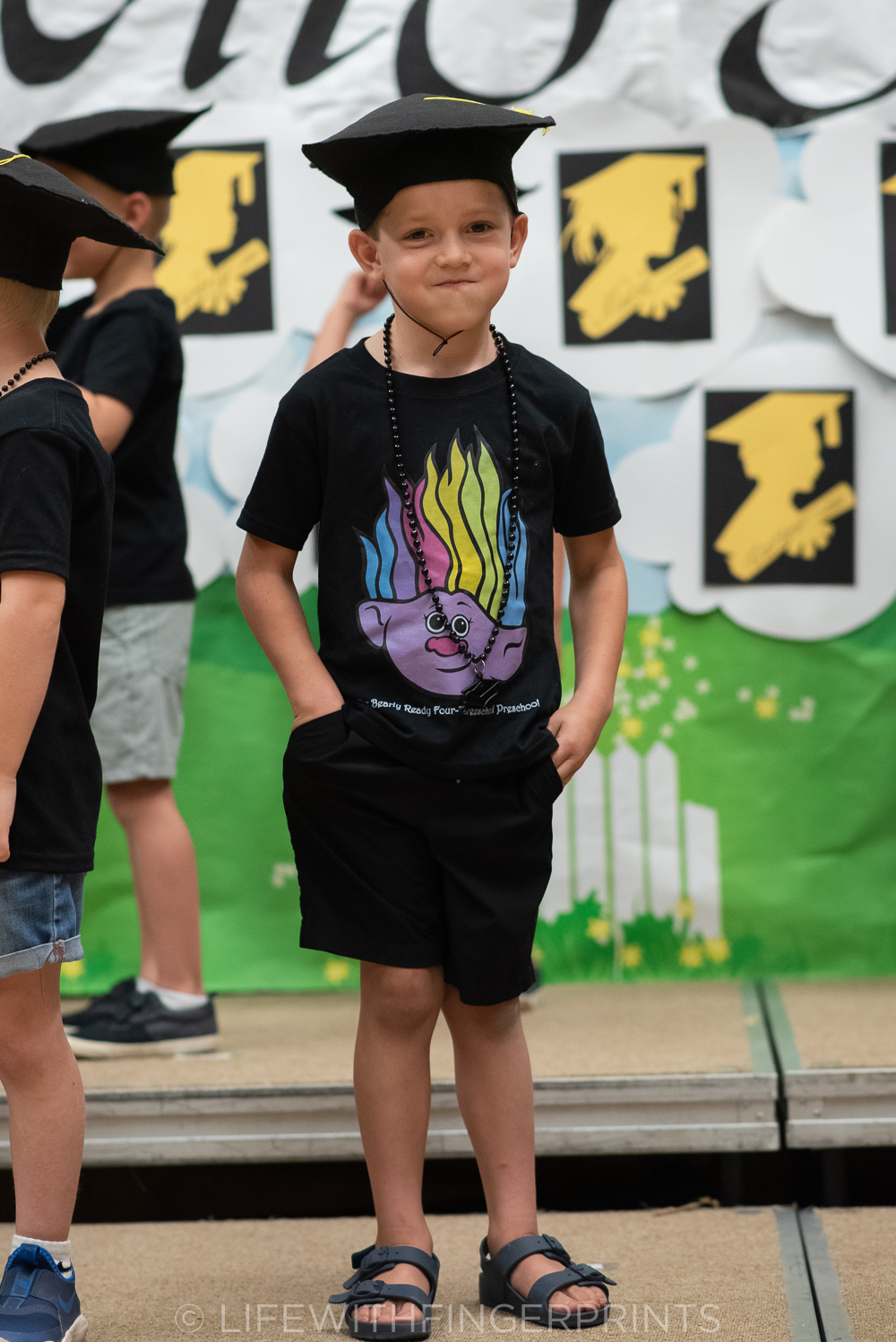 As you can tell, the theme for preschool this year was trolls and they've known all year long they were working for trolls trophies. And they did not disappoint! Briggs is now the proud owner of two vintage trolls which I know were hard to come by for the teacher to find.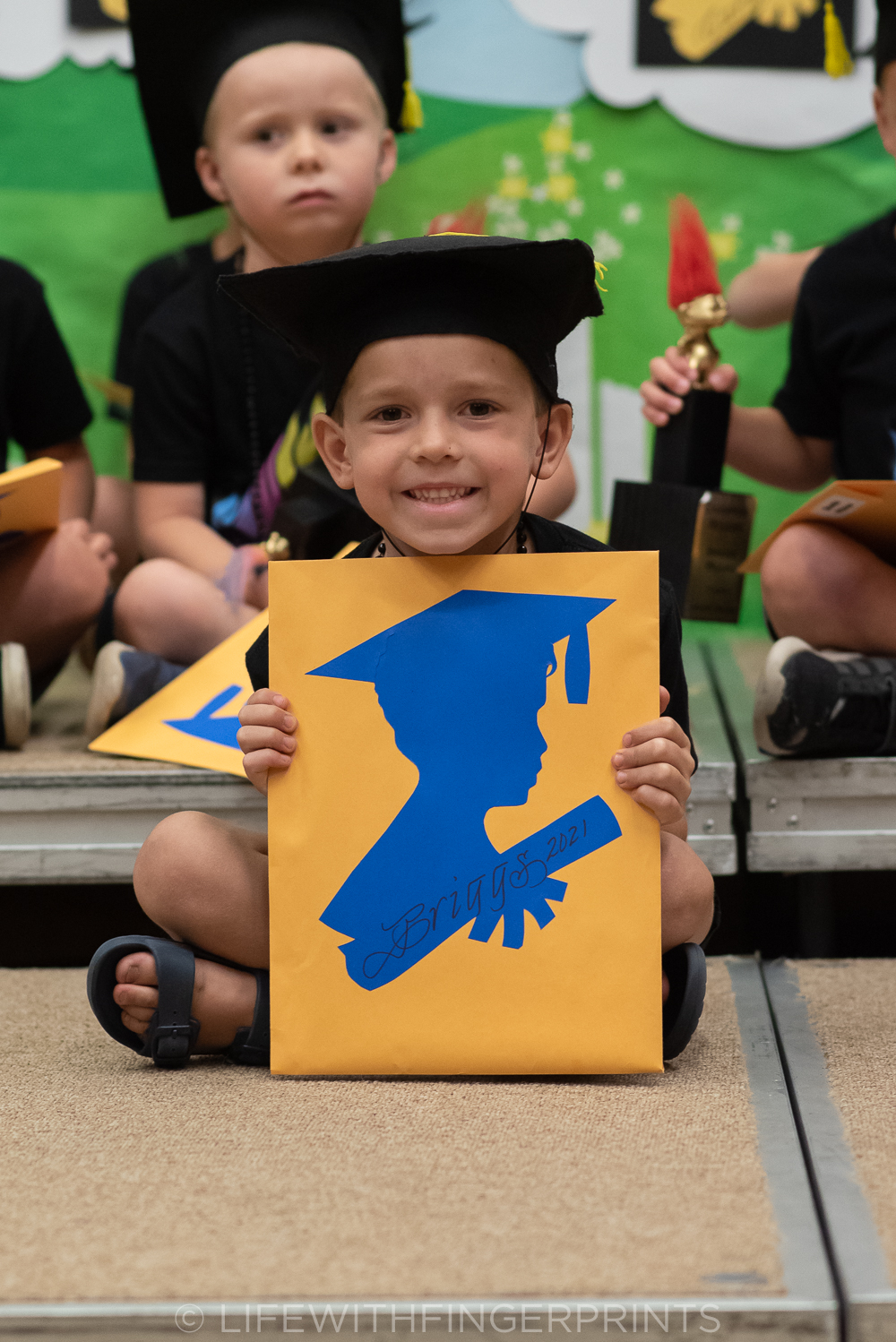 This sweet lady has my heart. She has taken my kids in to her home and loved them like her own. Even when I know they were difficult. Side note: Hunter just reminded me of a time he got in trouble at preschool. He was always a mischievous kid and I often wondered how he handled being in her class. Anyway, some girl was using the drinking fountain and in Hunter's eyes, she was taking her sweet time. Every once in a while she would stop sipping and look back at Hunter standing behind her waiting not so patiently I'm sure. After she would grin at him, she would slowly turn to the fountain and resume drinking. She did this a couple times before Hunter was done waiting and he pushed her head into the drinking fountain.
He has many stories just like that – but this teacher loved him anyway. She trained my boys to be obedient in the classroom and she was strict with them – and I know a few of them probably pushed her buttons. She taught them to read and she praised them and gave them confidence. She loved them. I see it in her eyes and my kids adore her as well. I can't count how many times Briggs has created a picture that we had to drop off in her mailbox.
I find it a privilege to know we were with her when it ended – a teaching career that lasted over thirty years. And I feel blessed to have been associated with her. In a way, she's made it so easy for us to move on without sadness because my kids are so ready. I don't worry about them moving on. They're ready. I'm ready. We're all ready and it feels good. We've had such a fun preschool run and we have officially closed that chapter. I wouldn't want it any other way.
We have just a few days left before all the kids are out of school and I'm enjoying these last moments of our one-on-one time. In all reality, he just wishes the play place at McDonalds would open back up – that would be his preference every day if given the choice. He doesn't recognize the large changes that are coming so for him it's business as usual. But I see them. I know change is just around the corner so we're just going to soak in a few more moments.