As we made our way home from our summer road trip we took a quick pit stop and dropped these two off with their friends/teammates to attend BYU sports camps. They do different sports each week so the fact that we found a tennis and soccer camp together was awesome luck.
Hallie has a phone so we knew we would get updates from her – but Hunter does not, so we knew when we dropped him off we likely wouldn't hear from him until it was time to pick him up days later!
I thought I was going to be more nervous about dropping them off than I was. This was new territory for us because we don't typically do sleepovers so this experience was completely foreign. And yet they were sooo excited. And they were with kids they knew and were comfortable with – so I couldn't help but be happy for them and anxious to see just how great their experience was.
Here's a couple things they acknowledged:
They both agreed – it far exceeded their expectations.
It was far more physically taxing than they imagined it would be.
The all-you-can-eat food never got old.
If college is anything like this, it's going to be awesome.
They were forced out of their comfort zones and made new friends.
Dorm life wasn't so bad.
Hallie noted that the boy soccer players were better looking than the tennis players.
They loved the athletic instruction, but they also loved the nightly activities where they mixed with other sports.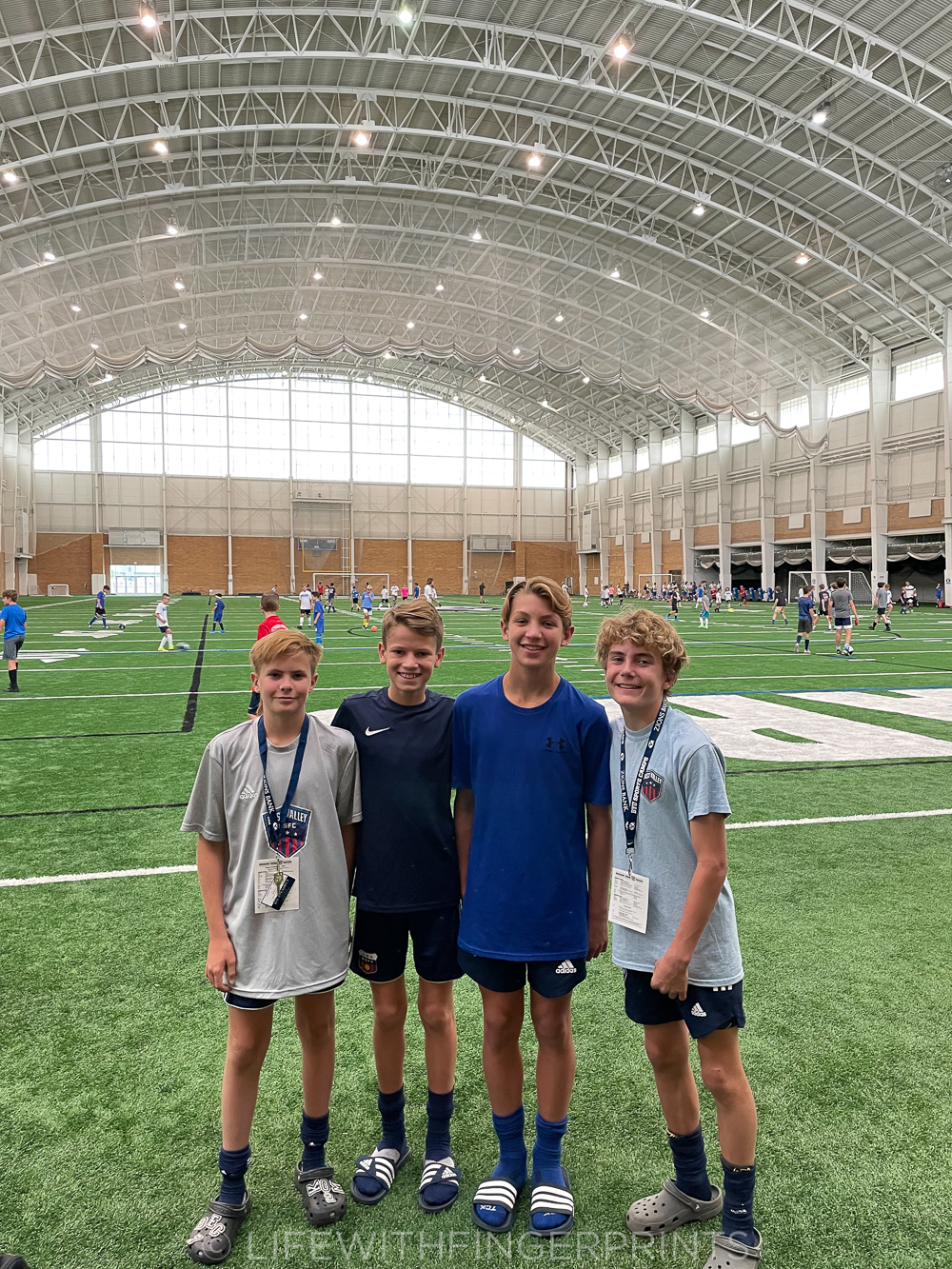 Here's some gems I got from Hallie's phone – from the looks of it, she had no fun at all! 🙂
Both Hallie and Hunter were physically exhausted at the end of each night. Hallie was struggling with blisters and had the team doc wrap her up each day.
On pick up day, I was able to go and watch their final tournament. Upon seeing Hunter for the first time he informed me how tired he was, how he had been playing forward, not defense and how bad their team was and how they keep losing.
But as I watched, the games told a different story. They won their first game in a shootout and they were doing some serious fist pumps.
And then they won their next game, which put them in the championship game and they were shocked and stoked to be playing. Hunter had already scored some goals and was running on adrenaline by the last game. He got another goal and minutes before the game ended, he was taken out by a defender and rolled his ankle. His camp playing time had officially ended. His team finished out the next few minutes and pulled out a win. League champions!
Hunter limped his way back to the indoor fields with a swollen ankle for the final ceremony where he received his league champion shirt and was surprised to earn MVP of his age group. (and got a sweet MVP bag).
His fit bit was recording record breaking steps each day!
Do you want to know how small the world is? After a long sweaty afternoon outside, I met a lovely blog reader from the midwest who stopped to say hello. We chatted for a while before learning that she had just been to visit my small Idaho home town because her daughter is currently serving a mission there. And before moving to our little area, her daughter had been 30 miles away in an even smaller area where my brother currently lives and her parents had travelled to see the small towns where she had served. We essentially travelled parallel trips this summer! I love when our large world doesn't feel so large and disconnected.
The next day, Hallie's camp ended so we were able to go watch her final tournament. I was surprised to show up and see her category for the tournament was all older boys. I assumed there had been a mistake and I asked the coach running the courts why she wasn't on the girls courts. I learned that there was no boys and girls tournament, instead it was just one tournament based on skill.
You can't really see it, but Hallie was ranked #2 of her group (white) – which meant she was playing the #2s from the other groups – which happened to be all boys. Out of 150 kids, she was playing at a very high level.
She had some tough competition – and yet she could hang with everyone she played. Such a good experience for her and I loved watching her. She's a tough cookie.
With all our kids gathered back together, it was finally time for us to head home after a summer of memories.