When we were planning our fall break to San Francisco with some family friends, it was overwhelming to choose what we were going to do with the limited time we had. We narrowed it down to the must-dos – and then we had a couple optional items we didn't want to commit to, but were on our short list if we had time.
Between the two families, we had 9 kids and we walked and biked and bussed all over that city. We find that our kids rarely complain when they're having fun with friends, even if that means walking 9 miles around the city!
ALCATRAZ
The thing our kids were most excited to see was not the bridge – although that came in a close second. They were most excited about Alcatraz. Bennett has just learned about Al Capone at school so when we mentioned this as an option, his eyes lit up because he knew exactly what prison we were talking about. Oddly enough, all the rest of the kids were equally excited without knowing much about it.
We booked our tours through the official Alcatraz website, alcatrazcitytours.com (Alctraz is run by the National Park Services, but the ferry is run by an authorized concessioner.) There are several services that will ferry you around the island, but only one allows you to go inside Alcatraz and take the audio tour. The audio tour was totally worth it. Each person got their own listening device and it's a self guided tour. It was fascinating. I'm not sure Briggs caught much of the audio tour, but he loved being there. The audio tour is only in one building, but you're allowed to explore the island and some other buildings which was interesting. We spent 2.5 hours there and we could have spent a little longer, but the kids were getting hungry and it was chilly as the fog started to roll in.
The older kids ended the night by watching the old movie "Escape From Alcatraz". They kept repeating over and over again, "I can't believe we were in that exact room. We were in that building!"
It kind of had some haunted house vibes!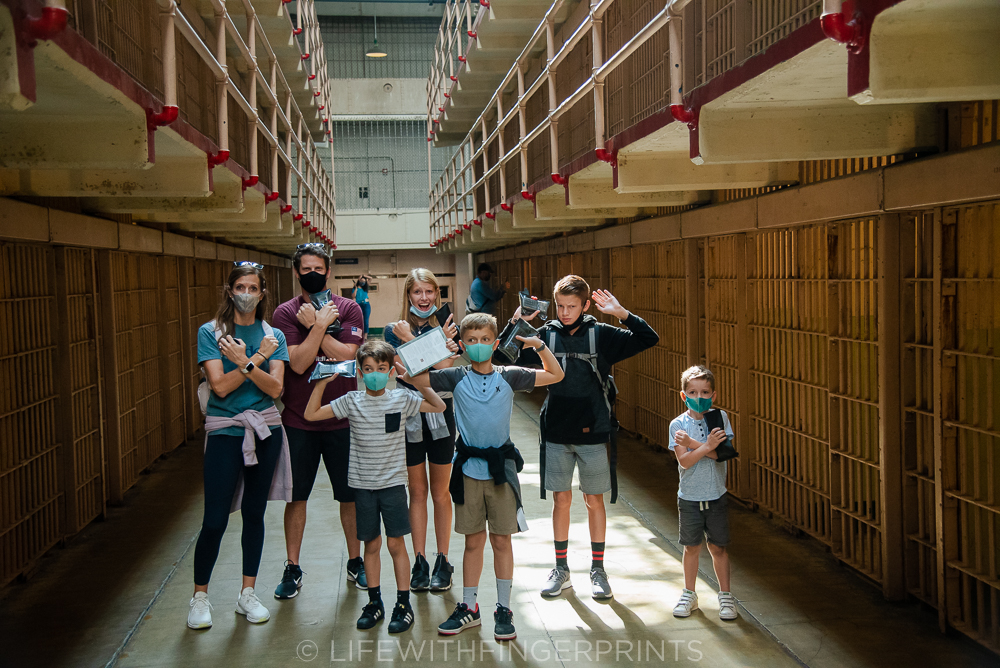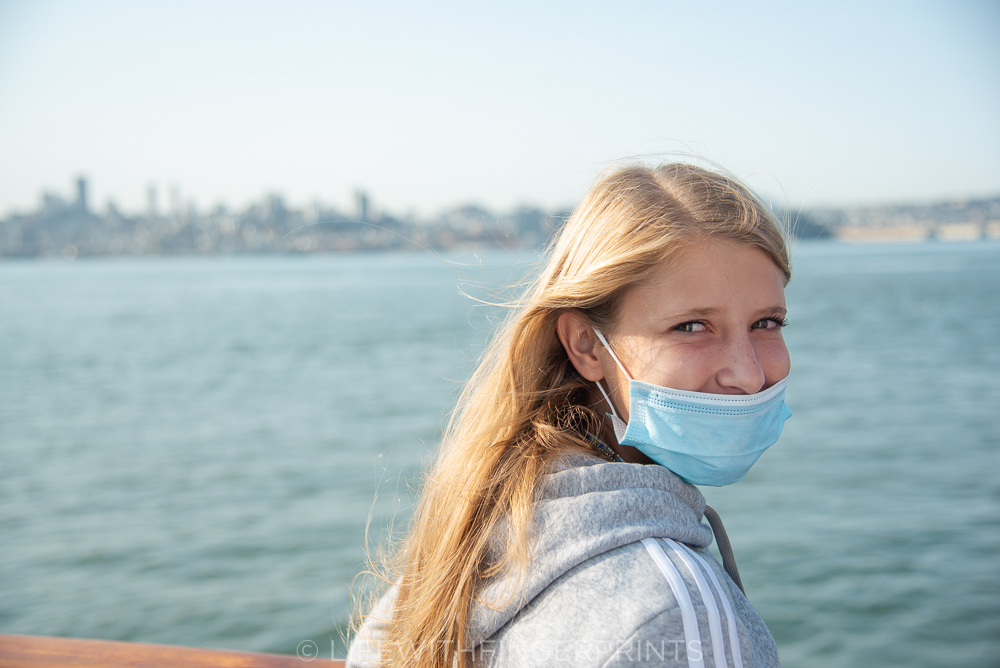 GOLDEN GATE BRIDGE
I'm not sure how you go to San Francisco and not cross the bridge. We actually crossed it both by bus and bike and I think everyone would agree biking was better. We purchased a GoCity pass for everyone which gave us two experiences to choose from and one of those was renting bikes for the day to cross the bridge. (In hindsight, I would have probably added more experience options to our pass – we just didn't want to wear everyone out or be tied down, but we could have easily done another activity or two!)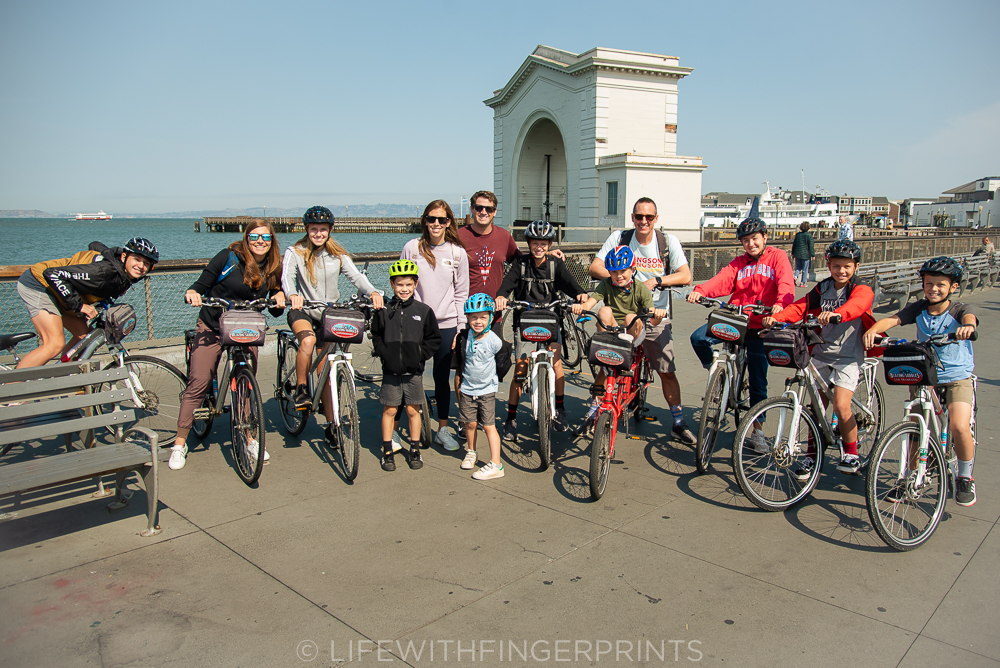 We rented bikes at the Wharf and rode all the way across the bridge. Most kids were on their own bikes and then Briggs and Cannon were on tagalong bikes with Steve and I. I will be honest – we didn't know exactly what we were getting into. We knew how long the bridge was, and roughly how far away from the bridge we were, but we underestimated the hills! (Shocking, I know, because the city is full of hills!) Within the first mile, both Steve and I were second guessing our decision. Our legs were burning early on, but we just kept pedaling.
The original plan was to keep riding into Sausalito and then take a ferry back. But when we got half way across the bridge, we put it up to a vote with all the kids and the majority wanted to ride back across the bridge back to the wharf. (We climbed a lot of hills to get to the bridge so I think the kids knew the way home would have some fun downhill rides and they were right!) So we made it all the way across the bridge and then turned around and came back. We were surprised to learn that they only let bikes across the bridge at certain times and we were lucky we were in the time frame. Had we arrived an hour later, we would have been disappointed to learn it was closed to bikes. Check ahead!
We ended up biking 13 miles – and I'm confident if we had known that number at the beginning, we probably would not have committed! But it was so worth it. It was a little foggy which was initially disappointing, but it ended up giving the experience another dimension that we weren't expecting. (Arizona kids are not familiar with fog, so riding through the "Clouds" was entertaining)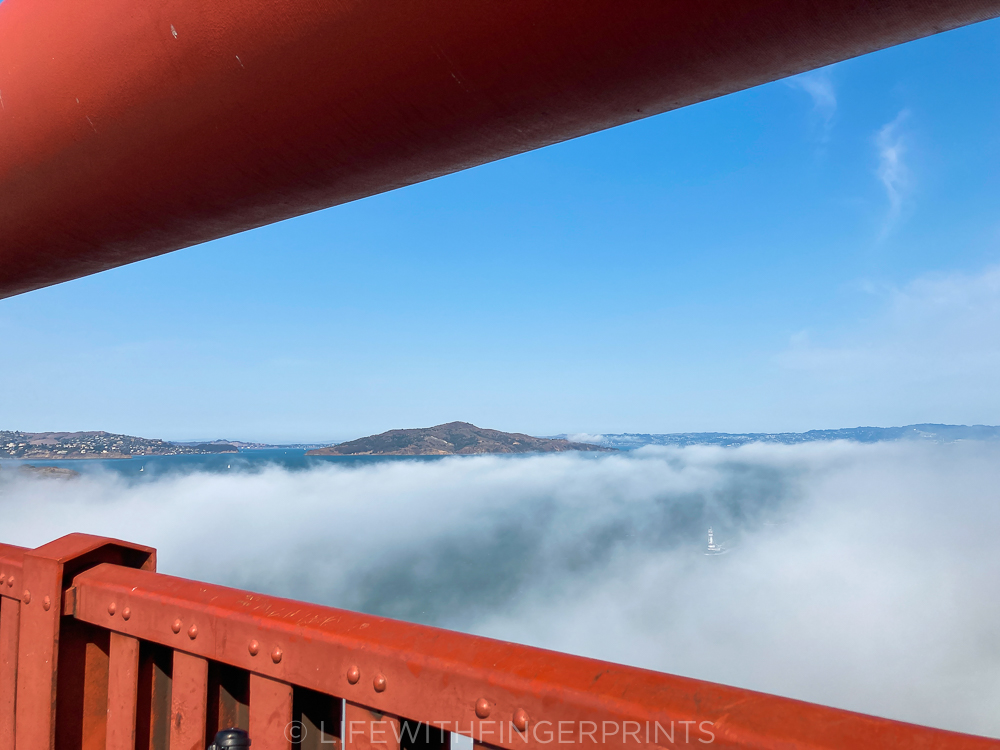 BIG BUS – HOP ON, HOP OFF
This was the second experience we had using our GoCity pass. We boarded the bus in the morning at the Wharf and we jumped on and off multiple times throughout the day to see different areas of the city. This was a great way to see the city and we strategically decided where we wanted to spend time. The kids loved the Ferry building which happened to have a farmer's market open and some random water structure across the street that our kids could have spent the whole day running around.
We drove through the downtown area and our kids were in awe of all the tall buildings. We have similar buildings in downtown Phoenix, but it always looks more cool in another city.
We stopped at the painted ladies (the victorian homes featured at the beginning of the Full House credits.) It was at this point that we realized our kids didn't know what Full House was and they weren't nearly as enamored with them. I thought they were pretty – similar to many victorian homes in SF – but because they were in the credits of my favorite childhood show they meant something a little more. There was a park across the street and once again, the kids found more than enough things to keep their interest and we got to sit in the grass and marvel at the beautiful day and beautiful area. It felt as though every stop we got off the bus, we were pulling them to get them back on the bus. They were easily entertained and very easy going.
We got off at the Golden Gate Park to play and grab some food and then took the bus across the bridge. Same bridge as the day before, but a different experience on a bus rather than riding bikes. The main advantage of the bus was it was easier to grab some pictures (and it required next to no physical effort), but it was way colder/windy riding on the top of the bus!
To be continued…