I'm not sure how it's possible, but this trip gets better every single year. The kids get older. They're happier on the lake. They enjoy more activities. They can put sunscreen on themselves! 🙂 Our relationships with our friends are stronger than the year before and we have more shared experiences.
If you ask my kids, Lake Powell is their very favorite week of the year – more so than any other vacation we've ever been on and I have to agree. If you haven't been to Lake Powell before, your only experience might be the media telling you how much its dropped in water level over the years and it's true. We stayed in the exact cove we did last year but it looked different since it's sitting almost 25 feet lower than last year. And yet, there is still so much to enjoy.
The weather was warmer than we've ever had with multiple days in the triple digits and yet I would argue, it was our best weather yet. The daily heat warmed up that water so even I found it to be enjoyable and luckily the houseboats have AC.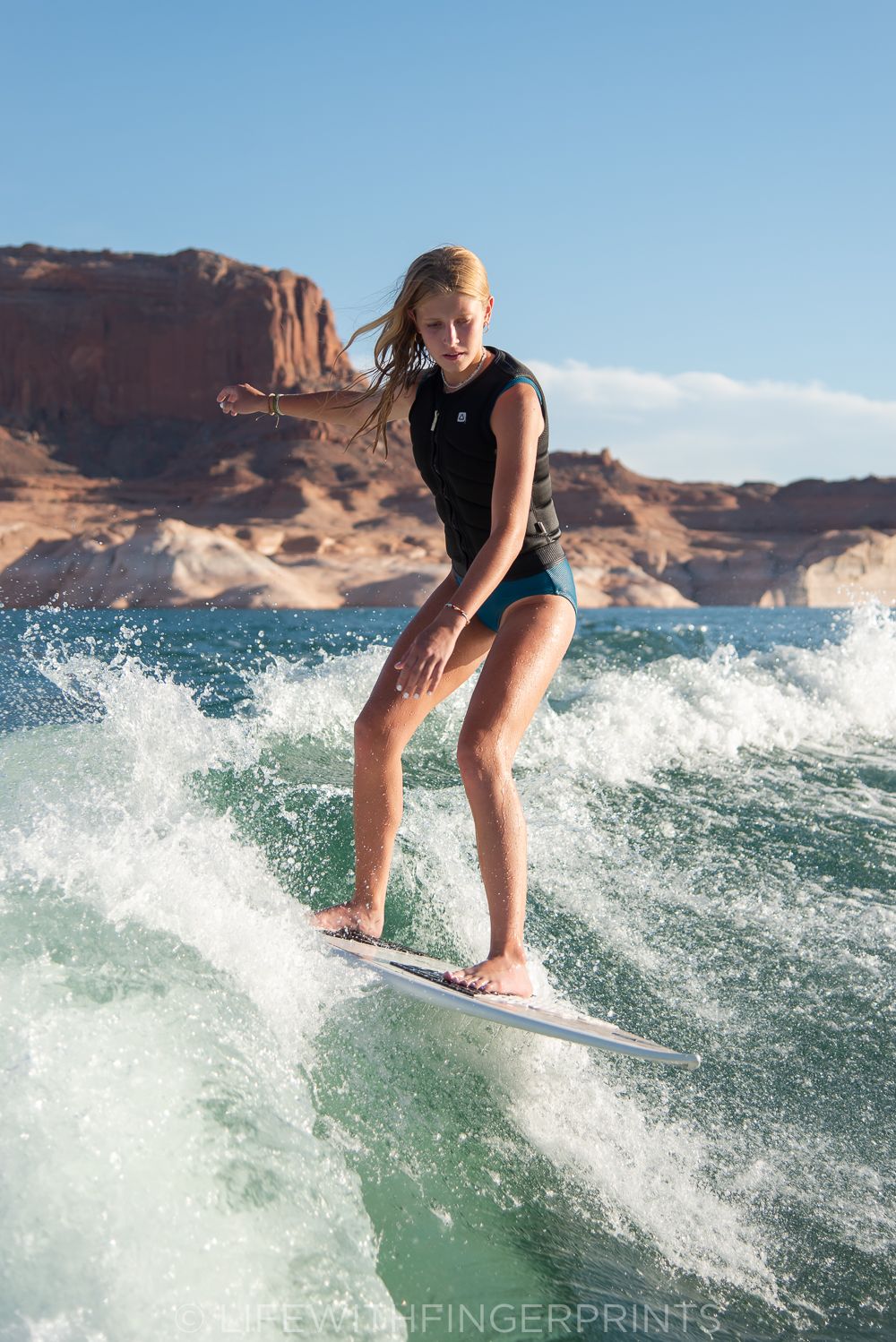 Every year our group has a few mishaps – broken props, stitches, boat issues or unpredictable weather – and yet every year we can recount God's fingerprint during the week. Hunter will have a scar from a simple encounter with an underwater rock (hours into our first day), a simple reminder of God's fingerprint that day. Luckily, we had Utah's best maxillofacial surgeon taking care of him. (Between all the doctors that join us on this trip, they bring enough medical supplies/equipment to run a small medical office – every year it comes in handy.) Unfortunately, it did put a damper on Hunter's experience for the week and he's claiming last year was a better year than this year. 🙂
Bennett has been working on his surfing skills and has been using a trainer board with straps to get comfortable. This trip was the first time he not only used a real board, but was able to let go of the rope and start carving. A far cry from previous years when he was crying in the water frustrated and ready to be done. I'm convinced learning to surf is a labor of love and we've been fortunate to have so many great people teach our kids. This year, it was our turn to teach someone else's kid and she did great – our experience has been kids always learn better when its someone besides their own parent teaching them.
If this picture had a sound (ie a video) you would hear a gaggle of kids chanting "Jared, Jared, Jared" over and over again. You see, Jared brings a boat every year strictly dedicated to tubing. It's a smaller ski boat, doesn't throw a large wake, and gets the best gas mileage. Every morning, my kids would wake up and run to the other house boat to ask Jared to take them for a ride – and he always obliged. The kids loved him so much, they started chanting his name with love every time he was taking them out for a spin. The chanting became a thing during the trip and it made me smile every time. At the end of the trip, as we were driving the house boats back to the marina, we caught up with the other house boat as they had stopped to remove the boat they were towing behind it. From the top of our houseboat, I could hear the chants. I walked out to find the kids chanting Jared's name as we passed them on the water. The perfect send off for him!
The whole crew – all of us crossing paths for various amounts of time in Milwaukee, Wisconsin years ago. Oddly enough, we weren't close with all these families while we lived there, but we all have a shared experience of our time together and that was enough to form an unbreakable bond and we have grown to love each other and we look forward to catching up each and every year.