Hallie and I (and really the whole family for that matter) have fallen in love with the voice of lesser known Benson Boone (although as of lately he's gained popularity on tik tok and I'm starting to hear him more and more). He's been on repeat at our house for sometime now and I'm just now starting to hear others that know about him, take a listen if you haven't already! When I found out he was coming to a small dive bar in Phoenix we tried to get tickets. But oddly enough, the 500 tickets sold out pretty quickly. I signed up on the waitlist and didn't think much of it.
As the day of the concert drew closer, I started looking at resell options and they were so expensive. (The original ticket price was only $16) I had given up hope. Hallie texted me from school the morning of the concert asking how expensive the tickets were. She did a great sales pitch and offered to pay half the ticket – how generous is that?!
By some miracle – I was scouring every resell site and found a ticket at half the price of every other site I came across. That set the wheels in motion. I rearranged carpool and dropped a note off on Hallie's car to surprise her. We set out on an adventure shortly after. It wasn't until we were driving over and Hallie was sharing about some people she knew were also coming that I realized the demographics of this concert. This was going to be a teenage girl's dream concert and I was going to feel extremely old.
Neither of us were prepared for just how small this venue was but it made the whole experience so amazing. A line wrapped around the building waiting for the doors to open and we found two girls from our neighborhood we knew to look for.
I let Hallie dictate where we experienced the concert. She chose front and center, standing just three or four people from the stage and I couldn't have been more happy with our placement. When they started handing out ear plugs, I noticed our proximity to the massive speaker just to the left of us and I gladly took a pair – this was a smart decision! I think it protected less from the speaker and more from the screaming girls surrounding me.
Hallie and I stood side-by-side and sang every word to every song with Benson at the mic right in front of us. It was unreal just how close we were.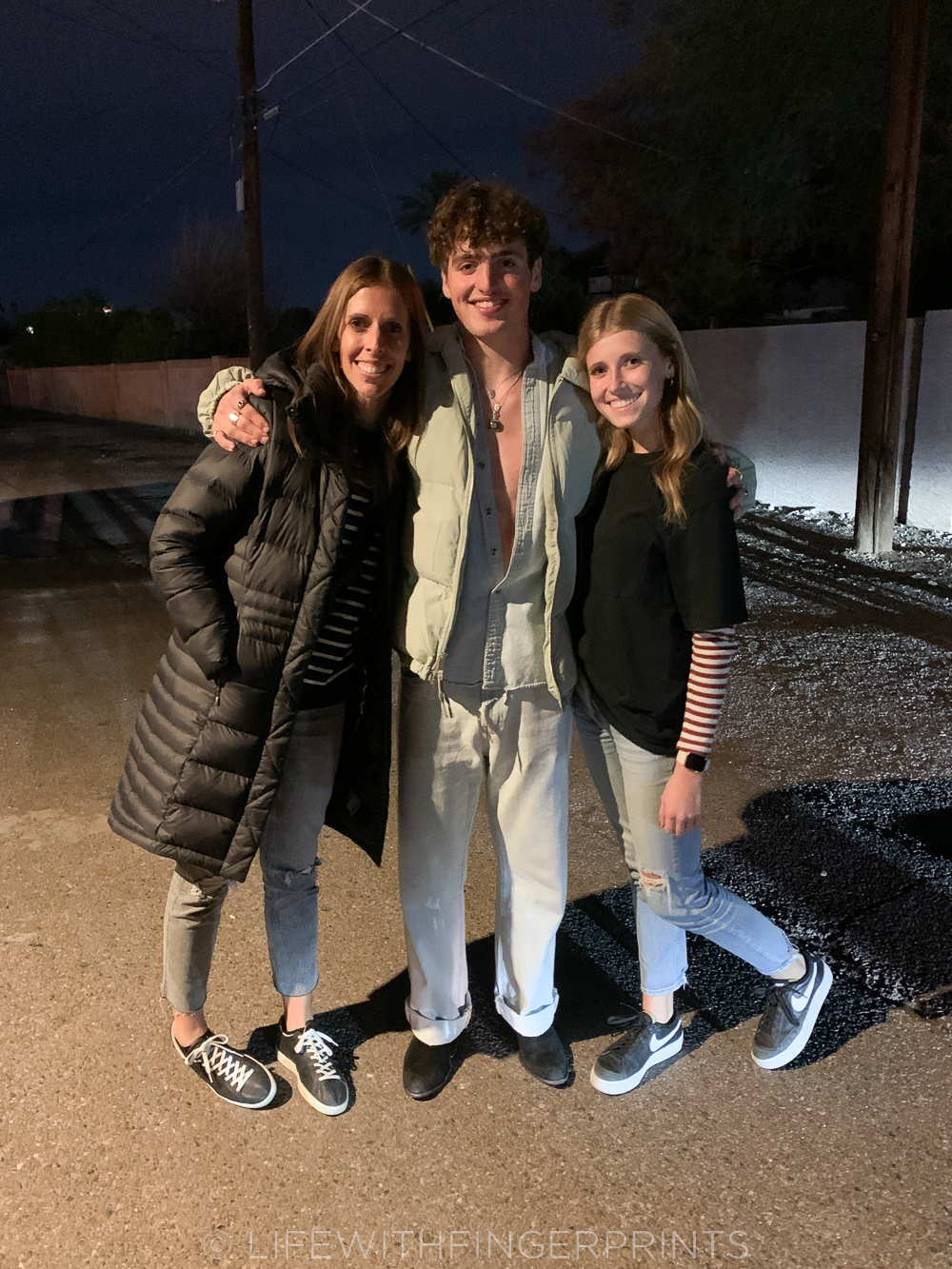 Just before his final song, he announced he would be outside after the concert and he would stay until he met everyone interested in sticking around. Immediately, Hallie turned to me and said, "We are meeting him." It wasn't a question whether or not we should wait in yet another line, it was a statement. And meet him we did. We have a picture and video to prove that Hallie hugged him and we drove away out of the parking lot with smiles on our faces and Benson Boone blasting on the radio.
It was truly a magical night and I can't believe we almost let the opportunity pass us by. I told Hallie, one day Benson is going to fill a stadium and you can say you saw him in a dive bar in the beginning.