Hunter told me at the beginning of the month when school started after winter break that he was going to run cross country for the school. I am not a runner and I have a hard time understanding anyone who runs for fun. His schedule is full and he's already participating in soccer and tennis…but he insisted he wanted to do it and it would be good training to keep him in shape for soccer. We had an honest conversation with the coach informing him Hunter wouldn't be at all the trainings but he wanted him to run for the team anyway. In fact, the coach said he wanted him to run last year but he couldn't convince him.
Today was his first meet (and our first meet – we had no idea how cross country meets were set up – we're learning!) He started so strong and fast at the very front of the pack and Steve and I both were convinced he wouldn't be able to keep that pace. But he stayed at the front the whole race – he didn't let up. And towards the end he kicked it into high gear – and sprinted across the finish line to first place. Steve and I were looking at each other in disbelief – he's a runner and we had no idea! We see him run in soccer games after a ball but that's about it.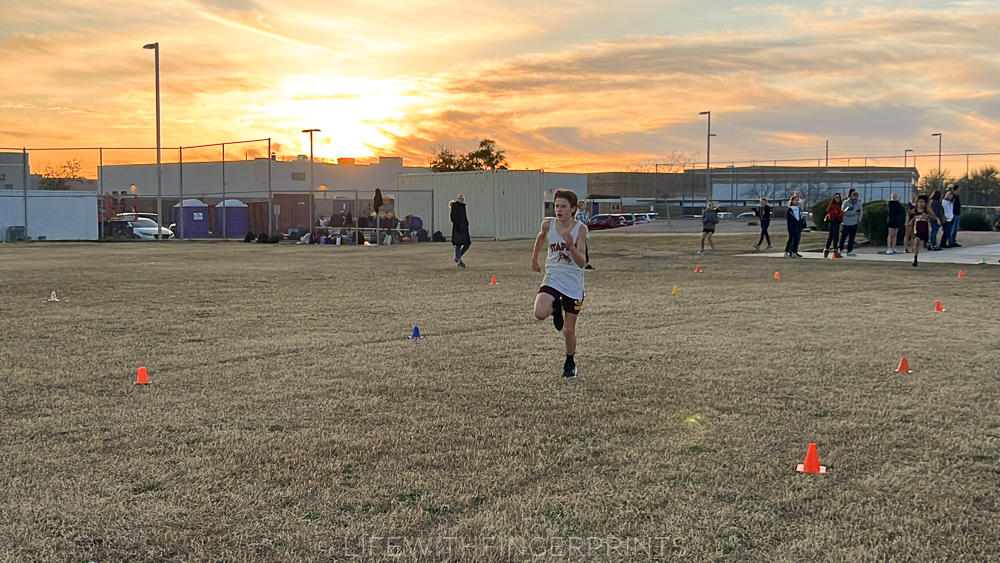 Now I understand why the coach was so willing to work with his schedule when he wouldn't be able to attend all the trainings or meets. Hunter has enough competitive blood running through him he's now got a personal time he's working to beat.