As many might already know, my love for Gilmore Girls runs deep and has for many years. I was an early adopter of the show thanks to being newly married without any cable television but with a DVD player and a friend who owned season 1 and 2.
I have spent years rewatching the show as I work on my computer – I don't have to really watch, I can listen and know exactly what is going on…in every single episode. Last year, Hallie jumped into the series and my love was rekindled once again.
A couple years ago, Warner Brothers (the studio responsible for this classic) recreated the show set and people could come tour it. I looked into it but it wasn't a good time for us, I had little kids and couldn't figure out how to make it work without spending an arm and a leg.
When I saw they were once again recreating "Stars Hollow" (the town the show is set in) for two shorts weeks, I told Steve now was my chance to relive the glory days. And lucky for me, he wanted to join me. So we went to California for the day and visited the Warner Brother studio tour – specifically the back lot – where Stars Hollow came to life.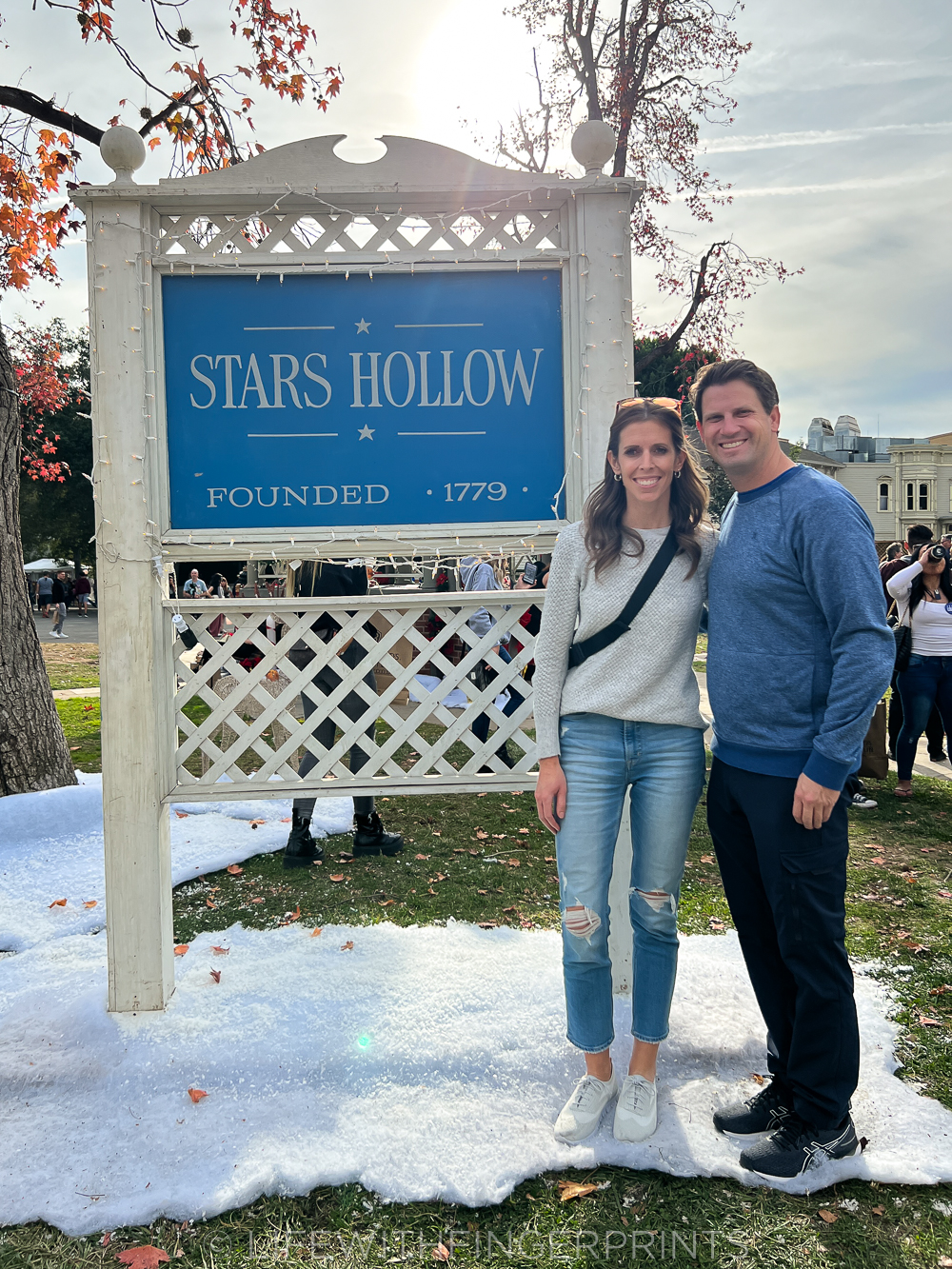 I'll be honest – it was a little surreal. We all know Hollywood is fake but when I saw Lorelei's house (which is exactly as I thought it would) connected to the side of Sookie's house it took me a second of replaying episodes in my head to figure out how they filmed this! At one point Steve and I actually played an episode on my phone that showed the town square so we could get our bearings straight. There is a lot of movie magic. All the buildings that look so real in the show, they're mostly 3 foot facades.
And yet, seeing the behind the scenes didn't take away from the ambiance of that little town/back lot. It really felt as though we had been transported back to the show. They had music from the show playing on the loudspeaker, the store fronts were decorated just as they were in the show and everyone we saw seemed to be decked out in their Gilmore Girl merchandise including a "Team Dean", "Team Jess", "Team Logan" pin.
I sat on the bench in front of Stars Hollow Books and just took in the moment. I'm sure it's a similar feeling for those that love Harry Potter and then to finally get the chance to go to Harry Potter World in Florida.
I was in heaven – I loved the atmosphere.
I did wish they had just one interior soundstage set up so we could see what it really looked like when they filmed. (On the tour, we learned all of the outdoor and indoor scenes at the grandparents house were all done in a soundstage which I found interesting especially after I went back and watched an episode of Rory standing outside the home.) But those have long been torn down. We did get to tour the soundstage of another show currently filming, but it just wasn't the same.
I'm not sure if they'll do this in the future at Christmas time but I would totally go back and perhaps let Hallie tag along next time!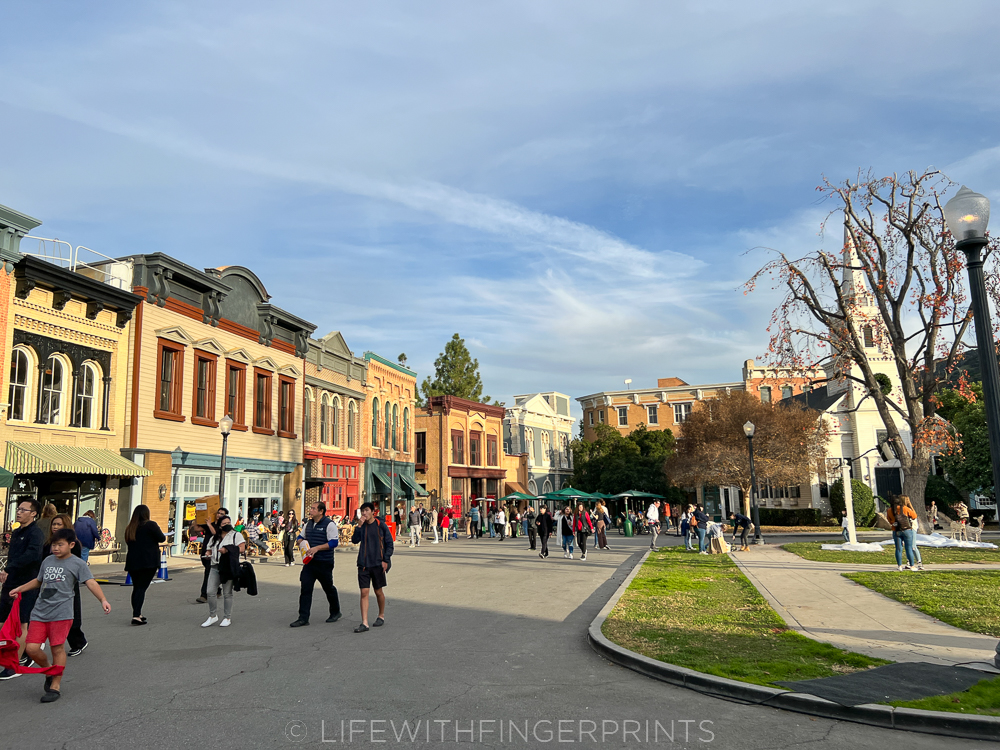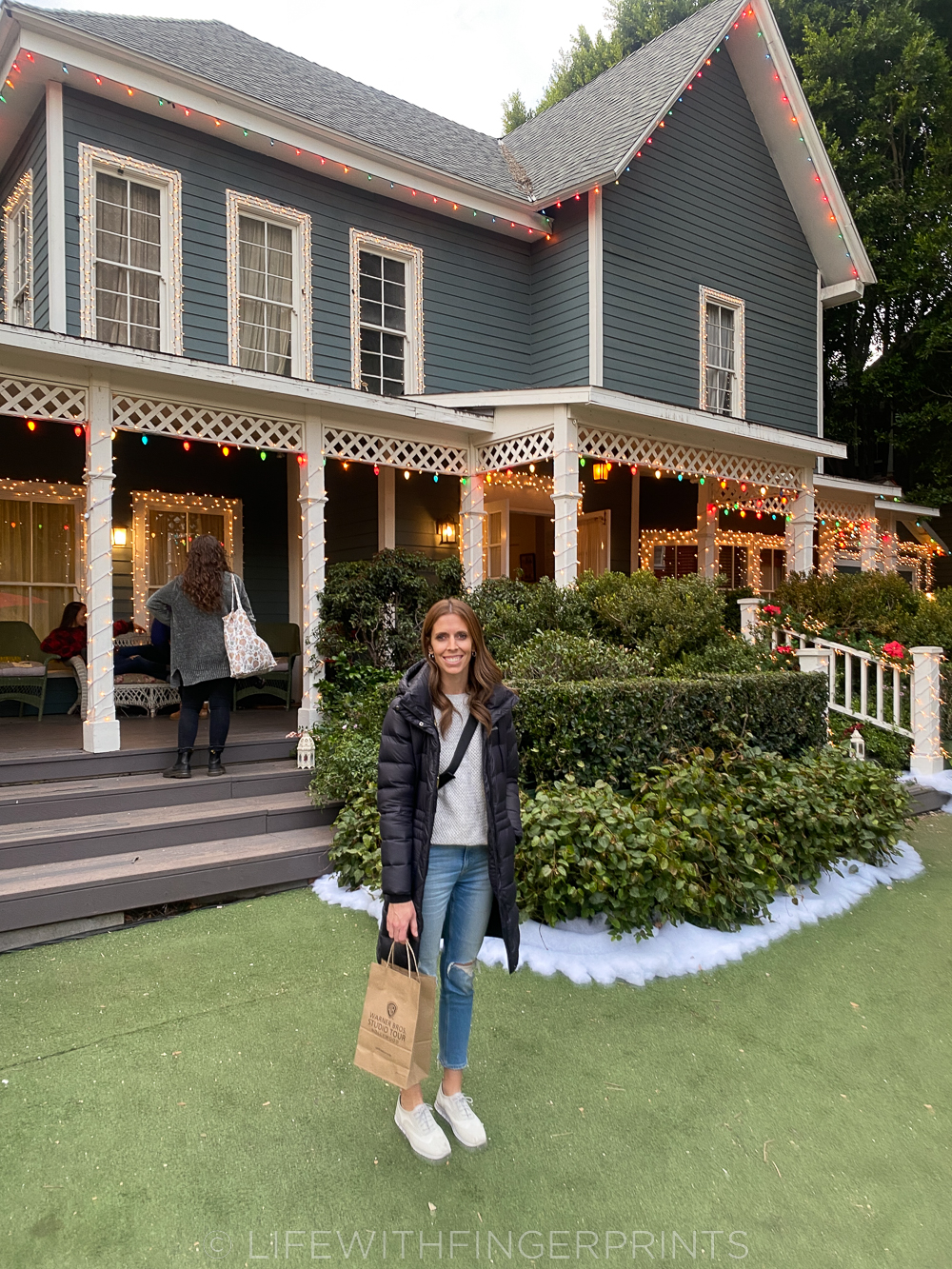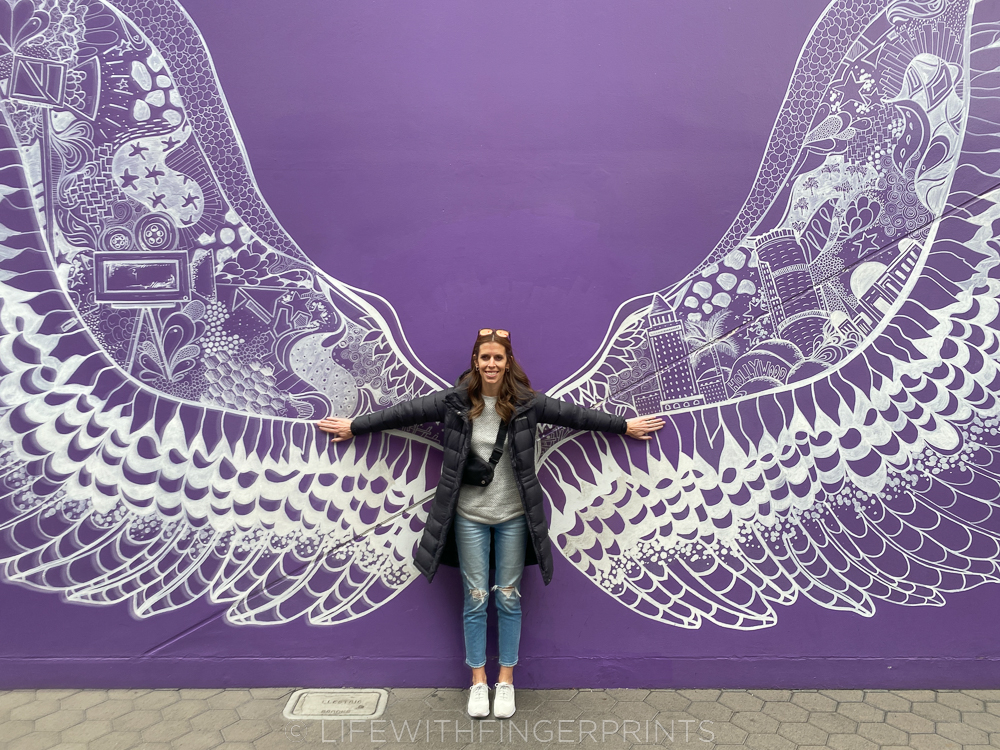 The whole tour wasn't focused on Gilmore Girls although that was my only draw. We also got to see the Friends and Big Bang Theory set and received other behind the scenes information we found to be very interesting. We walked away realizing Hollywood is entertaining, but completely fabricated – it's just fun to see how they fabricate it.