Hallie has had an amazing school tennis season so far. Every match she plays singles and then plays doubles with her best friend. If given the choice, she would choose doubles – in her words, it's more fun and she likes having someone on the court pumping her up.
As our school prepared for the district tournament, the coach was trying to decide whether Hallie and her partner would play as a doubles team, or if they should both play singles. For this tournament, you send two doubles teams and two individuals – and you play every school in the district. The team with the most points wins the district championship. On top of that individuals/double teams are also playing for individual awards. Deciding where players should play is a numbers game as coaches try and determine where they can win the most points.
Hallie and her partner really wanted to play doubles.
I talked to the coach the night before the tournament and he felt we would win more points if Hallie and her partner played singles – they are the top two players on the team and it would be our best chance at winning.
Hallie didn't really have a say in the matter and she was rostered as a singles player.
It was a long day, with Hallie scheduled to play 5 matches. Two of the girls Hallie was really not looking forward to playing. One girl, Hallie barely beat the night before during a season match and the other she barely beat the week before that.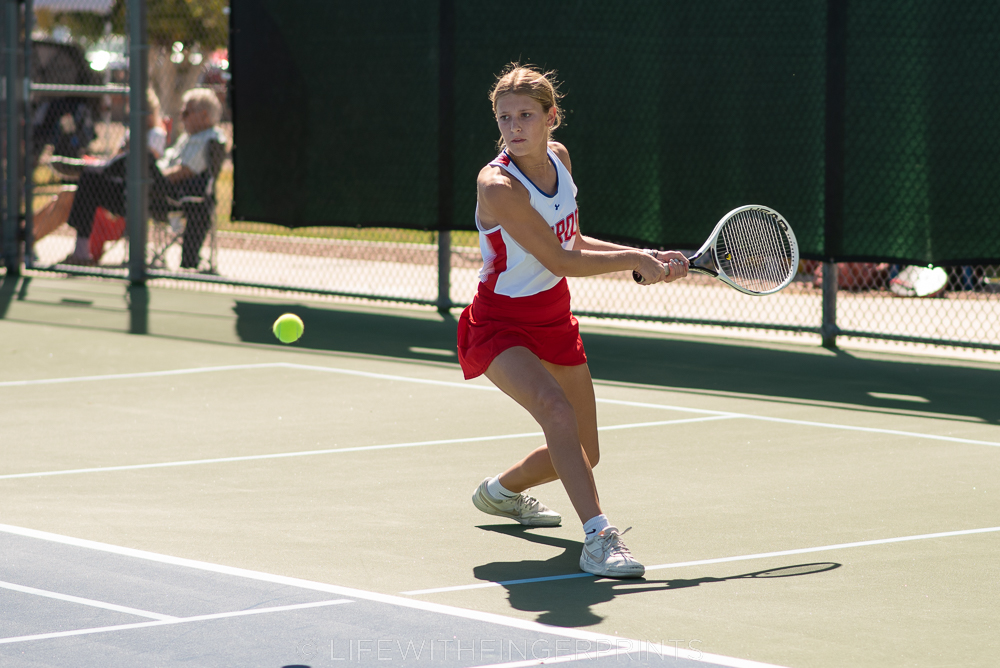 Hallie knew she was going to have to battle…and battle she did. Her fourth match of the day was the most important and also the hardest. She started a little rough and in almost no time she was down 0-3 (playing to 8). She was hot, tired and discouraged. But one thing Hallie doesn't lack is heart. And she fought so hard and eventually clenched an 8-5 win. She was exhausted.
Shortly after that win, Hallie had to get back on the court (her opponent was not so patiently waiting because she had had a long break). This is a girl who Hallie had beat before with little effort and it should not have been a difficult match. Hallie started strong and then started to break down. Her body was done. She would try and get a short ball at the net and she would stumble to her knees. Every move took so much effort and her once strong lead became a tie at 5-5. She was in tears from the pain and likely heat exhaustion. I actually didn't think she was going to finish. She had nothing left in her tank.
But then her team came to watch outside the fence and started cheering her on. Steve's brother and sister-in-law were there. His parents were there. The boys tennis team made their way over to her court and even the boys' parents joined. In the end, she had the biggest crowd and we were all cheering her on every step of the way. I honestly think that's the only reason she was able to finish. It was the longest, most painful match to watch and she walked off the court limping and in tears, but she also walked off a winner.
Her team won the division title and she individually took home the gold medal for singles – and we were so proud of her. I thought maybe this would spark an interest in playing singles for the state tournament but she assured me she would be playing doubles. 🙂 I don't blame her!
Our cute friends learned of Hallie's big win and within an hour, this poster was on her car with some candy. I love how they recognized how exciting this was and celebrated this big win with her.