Hallie went to prom last weekend and as you can tell from the pictures, she had a miserable time. 😉
We bought several dresses and they were great – she could have worn any of them. And then she borrowed a dress from a cousin and threw it in the decision mix. She went back and forth between two dresses until the very end – she asked friends, aunts, my mom on facetime. And in the end she went with the borrowed dress and I may be biased, but she wore it beautifully. And after buying 12 pairs a shoes, we finally found a pair tall enough (that she could also walk in) so the dress wouldn't drag on the ground.
She had trouble finding someone to help her with her hair, her cousins have helped in the past but they were unavailable. I told her I would help her out and she was skeptical of my abilities. (Just because I taught her at a young age to do her own hair, didn't mean I wasn't capable of it – I just wanted her to be independent in that area.) So we started early enough in the afternoon that she could start over if need be – but we didn't to. Luckily, I still know how to french braid even though I haven't done it in at least 10 years.
I had one of those moments as I was taking photos – I was just watching her from afar and she suddenly looked older than she ever has. Maybe it was the dress . Maybe the makeup. Maybe it's the boy. I'm not sure but she didn't look so young anymore. It terrifies Steve. But I marvel over her beauty – inside and out – and I'm just so proud of her. I had a mother who was there taking pictures as well call me after to share how impressed she was with Hallie and her radiance. My heart swelled just a little bit more.
He picked her up in his dad's old volvo and it just added to the special ambiance of the night – I just had to snap some photos of the fun car.
Side note: Its funny because I've seen a lot of prom pictures recently on instagram of friends who live all over the country and I'm realizing prom fashion is definitely regional. There were some areas of the country where boys were in formal attire and girls wore mostly long black dresses. I compared that with our area where boys wear suits and girls wear colorful dresses – not a tux or black dress in sight. Every area is so different.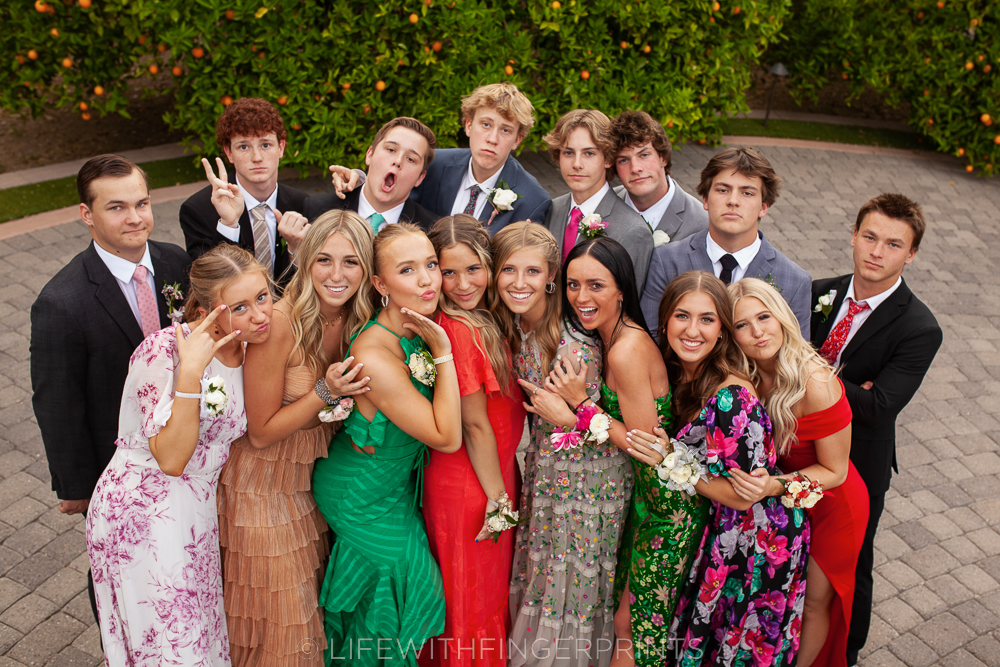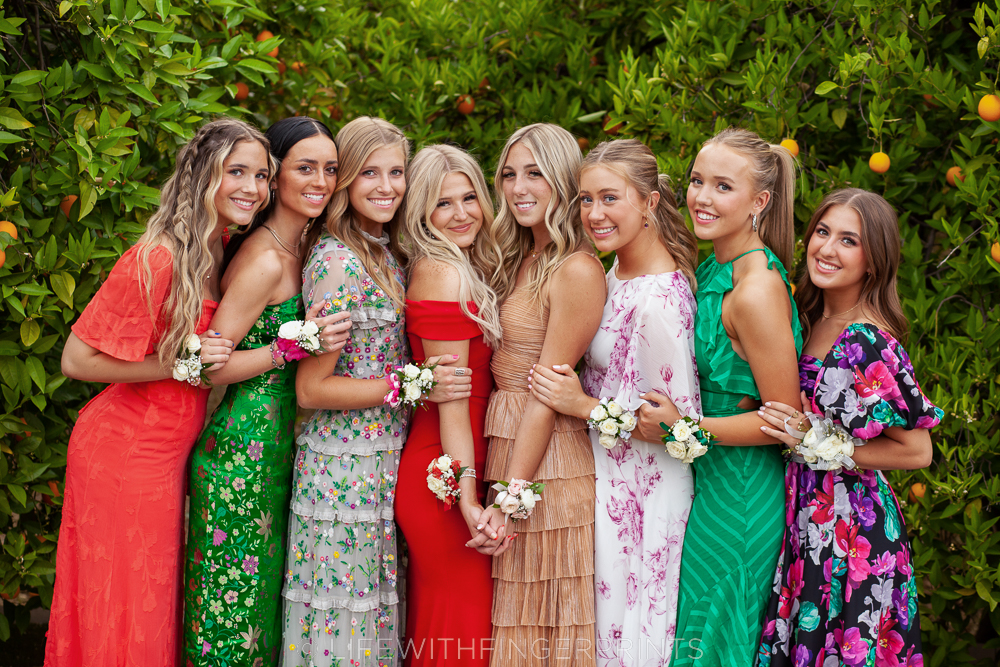 They ate dinner in the backyard of one of the boys' homes and then made their way to the Phoenix zoo where the prom was held – the first dance she's been to that wasn't held at the school.
So many friends – so many memories – so many smiles. They had a great time – it lived up to all the hype.
And of course we have to show that "promposal" and answer.
I got Hallie out of the house and Hunter helped him decorate her mirror.
And as our local culture goes – she said yes right away through text and then waited almost two months to answer him officially which she did she a few nights before the dance.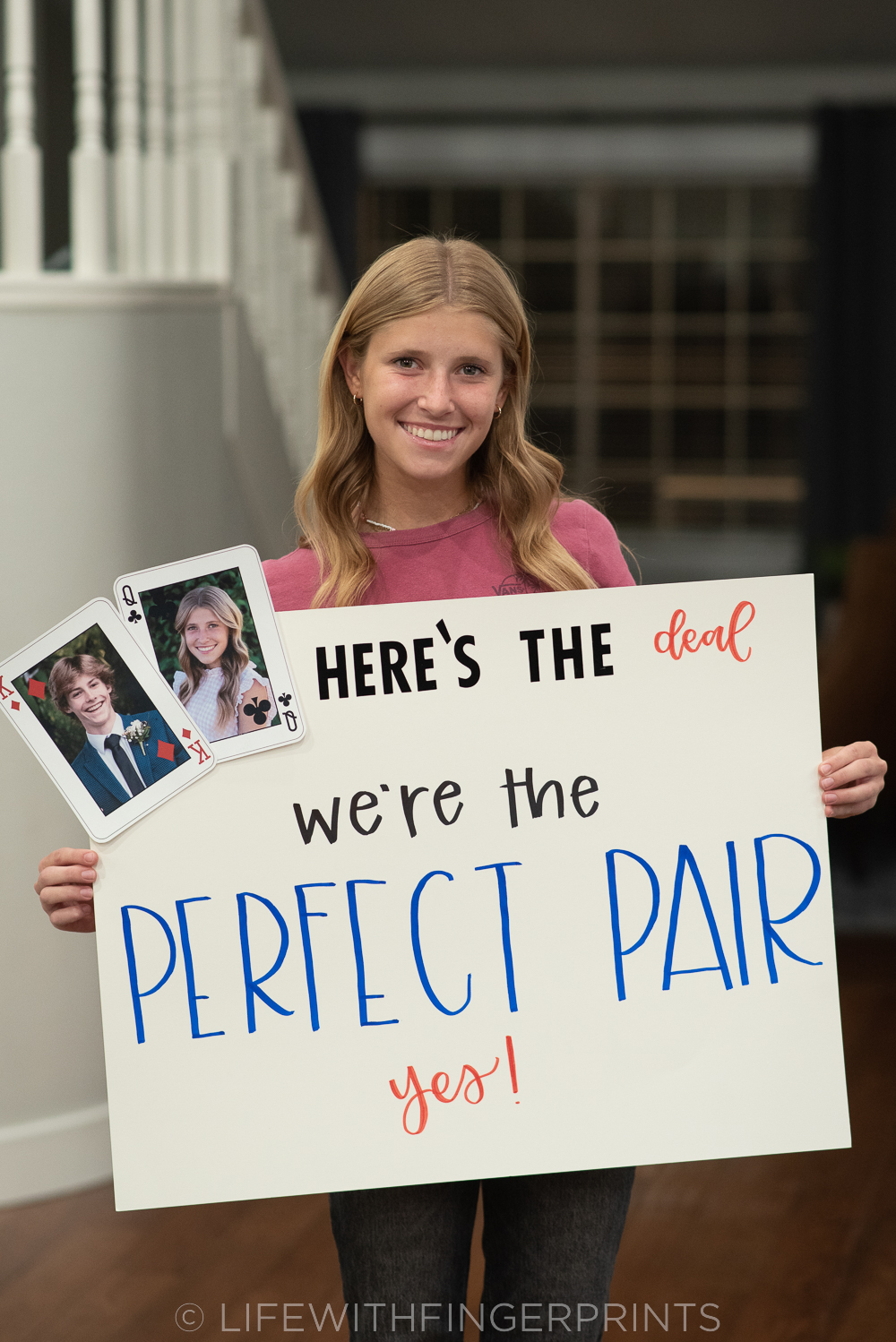 She took a deck of cards and wrote notes/memories on the cards and placed them around the poster with hershey kisses. (You know I'm cataloging all these ideas for the next four kids who have to ask and answer a few dances!)
Steve was joking that kids were going to start asking for the next dance (which of course is homecoming next fall) because they always ask so early, like the night of the previous dance. Luckily, we have a break before the next dance and we already have some great dress options!