Although I spend a lot of time with my family over the summer – there is only a few days where everyone gathers together and it's typically the only time I get to see my sister and her family from North Carolina. This year we gathered in Logan, Utah. But the truth is, it doesn't matter where we gather, we manage to have a good time together where ever we are.
We found a VRBO to fit our entire family and we made it our home base. From there we went on little adventures every day. I mentioned we played wiffle ball – our family can enjoy themselves at just about any park. There were homerun derbys, splash pads, soccer games, lawn games and the kids were the masters at making up their own games.
We went on a family history hike that proved to be a little more difficult than we were anticipating. My brother is named after by dad's uncle who passed away in his teens while hiking up the face of Waterfall Canyon trail in Ogden. We've always heard the story of his passing, but only one brother had actually hiked the trail. So we thought it would be a great family activity. The trail was listed as moderate and if I were to guess it was on the hardest side of moderate. Between my parents and some of the little kids – I had my concerns! 🙂 But we made it.
The waterfall was beautiful and refreshing on this particular warm day and it was nice to share some family stories with the group. We also made an unplanned pit-stop at the local cemetery where we have several ancestors buried including the teenager we had just learned about on our hike. (Unpopular opinion: I like cemeteries. I enjoy walking the rows of headstones to learn little tidbits about random strangers – especially old cemeteries.)
Who doesn't like to stop in at Wal-mart after coordinated family pictures?!
The dynamics in our family are little interesting. The oldest grandchild is a boy. Then there were four girls in a row. And then a whole slew of boys, with one lone girl towards the end. So these boys are as thick as thieves. They need no entertainment and they move in a pack. Despite the age gap, the older cousins are so good to the younger ones and let them tag along and join in their games. I can't count how many pictures I have that look like these: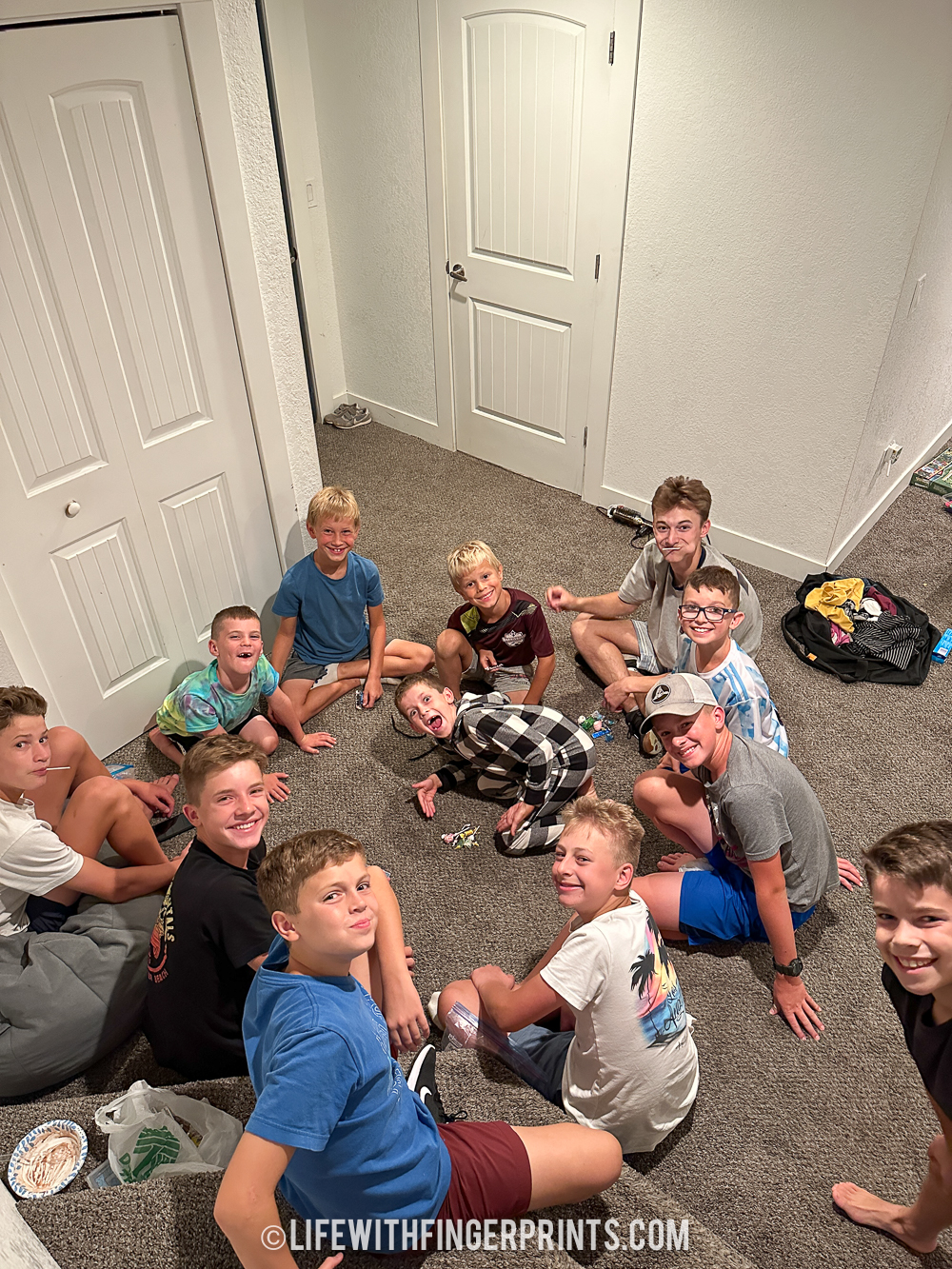 Same boys in every setting imaginable. What I love about them is how self sufficient they are. They will always come up with something to do, no supervision/intervention needed.
What I wish I could accurately depict is just how much we enjoy being together. The laughs. The late night discussions. The competitive games. We choose to spend time together – we like each other that much. And I don't feel like there are ever enough photos or videos to truly convey that feeling. Just feeling grateful for our time together.