Today was a success on all accounts!
Hallie is entering her senior year and has come home the last two years disappointed after going to her first day of school…but not this year. She is stoked.
She has one class in particular that she has so many friends in and unfortunately she has the worst class/teacher and they'll be lucky if there's any socializing. It's the first day and the teacher has already yelled at them to shut-up and told them they are the worst class she's had. The teacher also informed them it's her last year and she'll do what she wants. Off to a good start. Throw a power hungry teacher with a bunch of over-confident seniors – they are bound to have some struggles.
Hallie was pleasantly surprised with her economics class and thinks it may be one of her favorite classes. Fingers crossed! She has seminary with Hunter and they finagled themselves into the same class – I'm not sure who's more excited about the arrangement; me or them. 🙂 They're going to have a great time and probably the only class they'll ever have together.
She's taken enough credits in the last three years that she gets out after lunch and is planning on working between school and tennis. She's living her best life.
Hunter came home with glowing reviews. He's in an innovative freshman program that combines 4 credits in a 3-hour credit block and he's excited. He knows a lot of kids in his team of about 90 kids and he's got some amazing teachers leading them. He's in good hands.
He's got a tough math class ahead of him but it sounds like his teacher is passionate and she doesn't even assign homework – just homefun. I'm not sure that makes it any better but she wants math to be fun for them.
He was excited to join Hallie's seminary class and was quick to let the teacher know Hallie could play the piano for the class (she can't BTW – but didn't stop him from volunteering her!)
Both Hallie and Hunter came home and reported the other was different (in a good way) than they expected at school. Obviously they spend a lot of time at home with each other and even see them around friends but for whatever reason they weren't prepared for the school version of each other. When I asked what they were surprised to learn they both separately made a similar observation: They found their sibling funnier/more playful than they expected. Which was surprising to hear because at home I think they're both funny and playful. They've already started a group chat with some kids in their seminary class and are arranging what snacks they're going to share with the group. My mom heart is so happy to see them enjoying this time together. Steve just hopes they participate in the class.
Bennett was surprisingly the most nervous this morning. He probably wouldn't admit he was nervous so maybe that's not the right way to describe him but he sure was quiet this morning getting ready and he's rarely quiet. He was entering a new school (jr high) and I think he had heard enough horror stories he was on his guard.
He came home less enthusiastic than the older two. He's already over school. I think there is such a shift from elementary school to jr and it can be a hard adjustment. Especially the first week or two. Today he learned just how different/hard it's going to be and I think even new shoes aren't going to soften that blow.
Bennett is my diligent child and he came home and immediately pulled out his work and made sure he got his papers signed and started homework. This year is going to push him. He doesn't always read the directions and sometimes it's more important for him to finish something fast than to actually get the answer right. You can get away with that far more in elementary school.
He's got two classes in Spanish as he continues on with his immersion program and he's got no concerns there.
He sat with friends on the bus. He sat with friends at lunch. He loves his PE class. He loves that so many teachers know his older siblings. I think he's going to be just find – just going to take a couple days to find his footing.
Cannon is finally considered an upper classman at the elementary school. He kept seeing old friends this morning as we were waiting for the bell to ring but he was only concerned with finding one friend – his best friend and neighbor Avery – and she rode the bus to school. As soon as he found her he could relax a little.
Cannon is also in a Spanish immersion class and his teacher only said 10 words in English today. He also observed he's not sure she's very strong in English because she had to ask Cannon in Spanish how to say something English. He was proud to understand her and was able to respond. He's also already been deemed the errand boy and he couldn't be more happy with the situation.
He scored a goal during soccer at recess and he had an assist. Best day ever.
Briggs was the most quiet about his day which is par for the course. He's chatty all day long until you're asking him how his day went and then he clams up. He's got friends in his class and he sat by them at lunch and on the bus. The teacher read a book about first day jitters and they had a special jitter juice. He did not willingly offer that information, instead the teacher sent an email home telling us to ask our kids about those things specifically.
Hopefully she'll do that every day so we can get some things out of him about his day. He is however always great about offering play-by-plays of the soccer game at recess or the latest happenings in the gaga pit. He's awesome at gaga ball by the way – self proclaimed of course.
I'm going to keep trying to squeeze information out of him.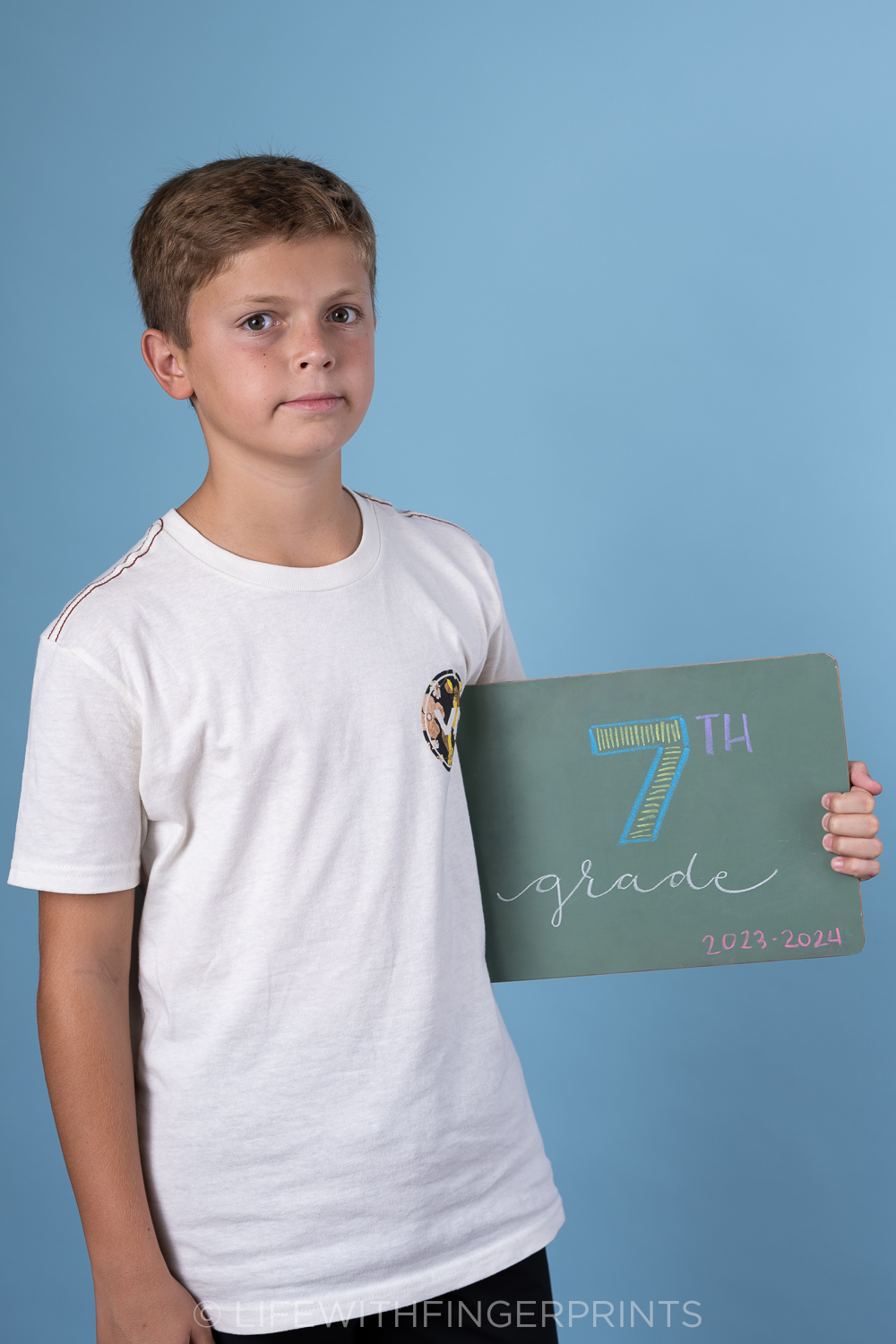 More pictures to come…