Do you want to know what the most genius booster fundraiser is? Allowing seniors to reserve and paint a parking spot in the school parking lot. There's a few schools in our area that have done this, but in our school's 45 years, they've never had a painted parking lot…until this year. Hallie's senior class was the lucky group to initiate the painted senior parking spots.
And as cool and fun as this project seemed on paper – it was far more work and took far more paint than we ever anticipated! I think Hallie calculated we spent 11 hours and her design was fairly easy compared to some. I think a lot of that time was spent painting asphalt that had never been treated and it just soaked up the paint. Future painters will have a little easier time.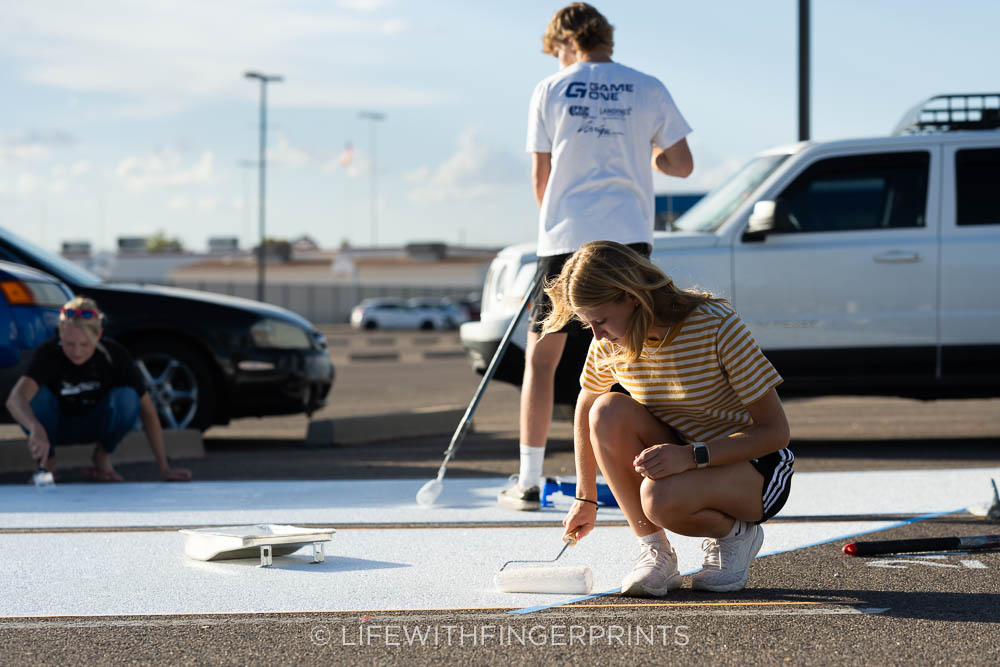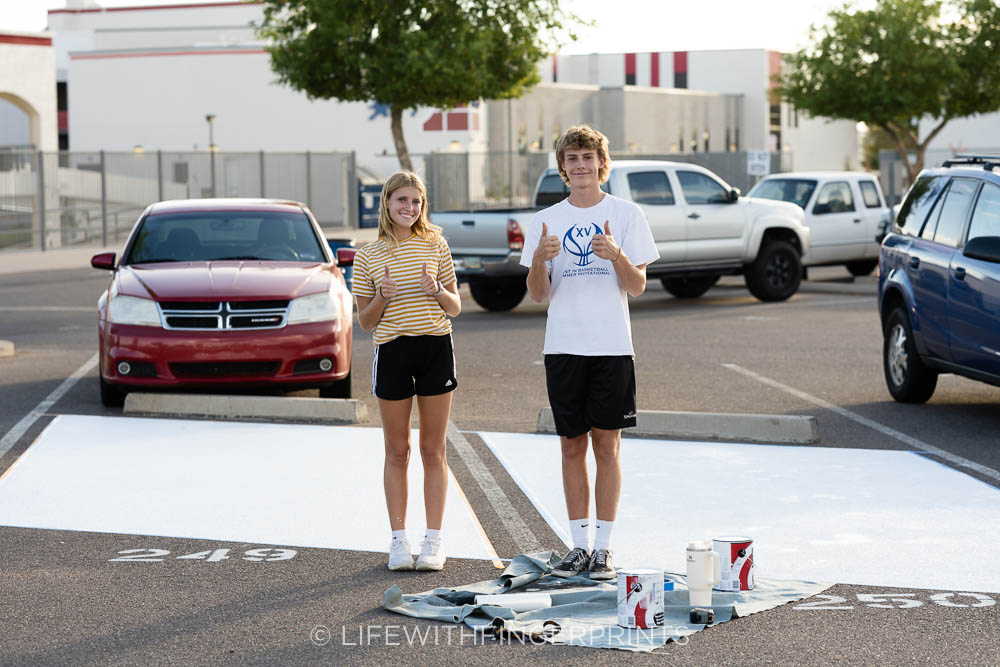 We got the primer done Friday before Hallie was headed out for the night. By the time she got home at 11pm, I suggested she head over to the parking lot to see everyone's progress. There were so many people seniors and parents working late into the night (trying to beat this miserable heat painting in a hot parking lot). I got a text at 11:56pm from Hallie asking me to bring the tape over so she could get some done while she was there with friends. So we ended up hanging at the parking lot from midnight until 2. And there were still plenty of people there when we left.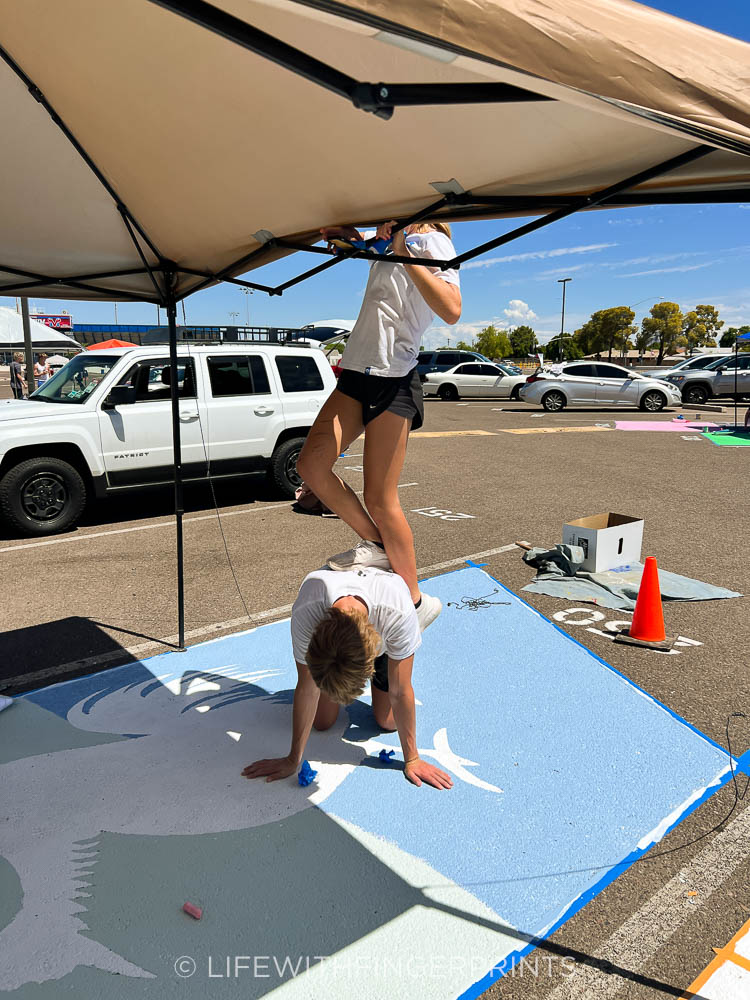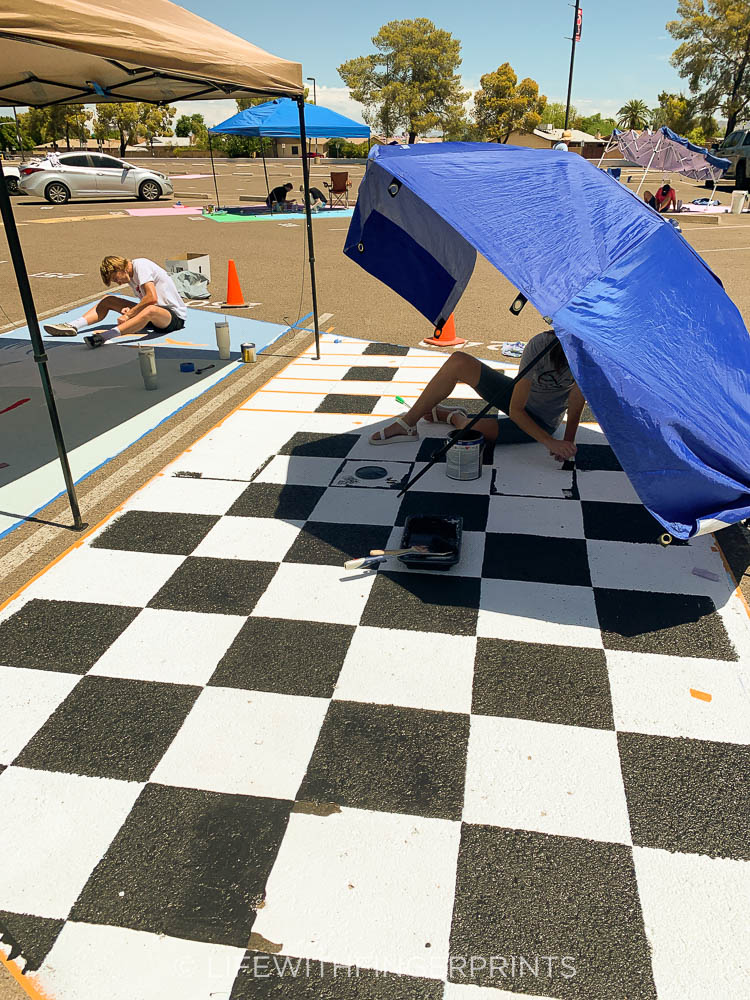 The next day, Saturday, we were heading back to the lot to hopefully finish up in the morning. Wishful thinking! We were there for another couple hours and although we made some good progress, we were no where close to finishing. Before heat exhaustion could set in, we called it quits and vowed to come back that night once the sun had gone down. I will tell you, as I sat at Bennett's soccer game that evening, I was dreading the idea of going back to the school!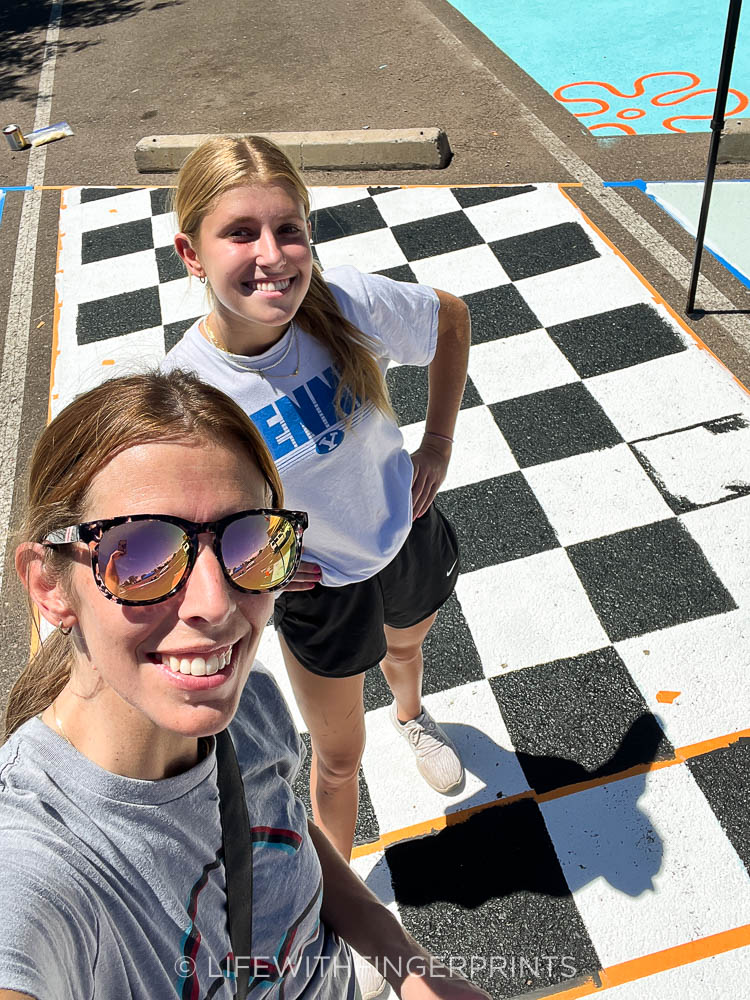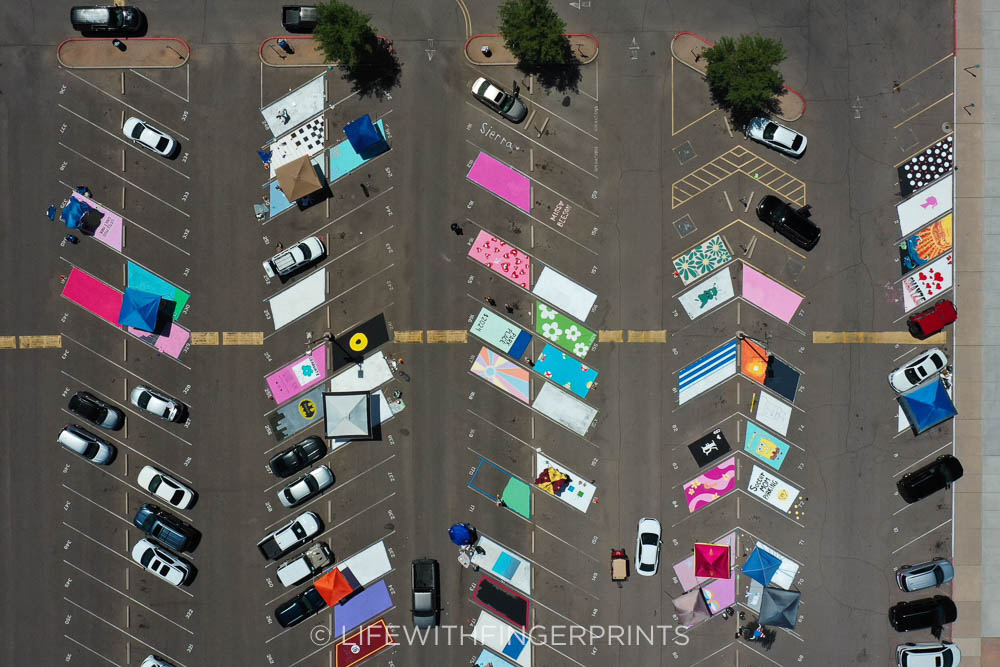 But I mustered every ounce of energy and we went back at it for another couple hours Saturday night before finishing shortly before 1am! I am a night person for sure but two late nights of painting and then baking in the sun – I was feeling my age! I'm embarrassed to admit how sore I am from squatting for hours on end!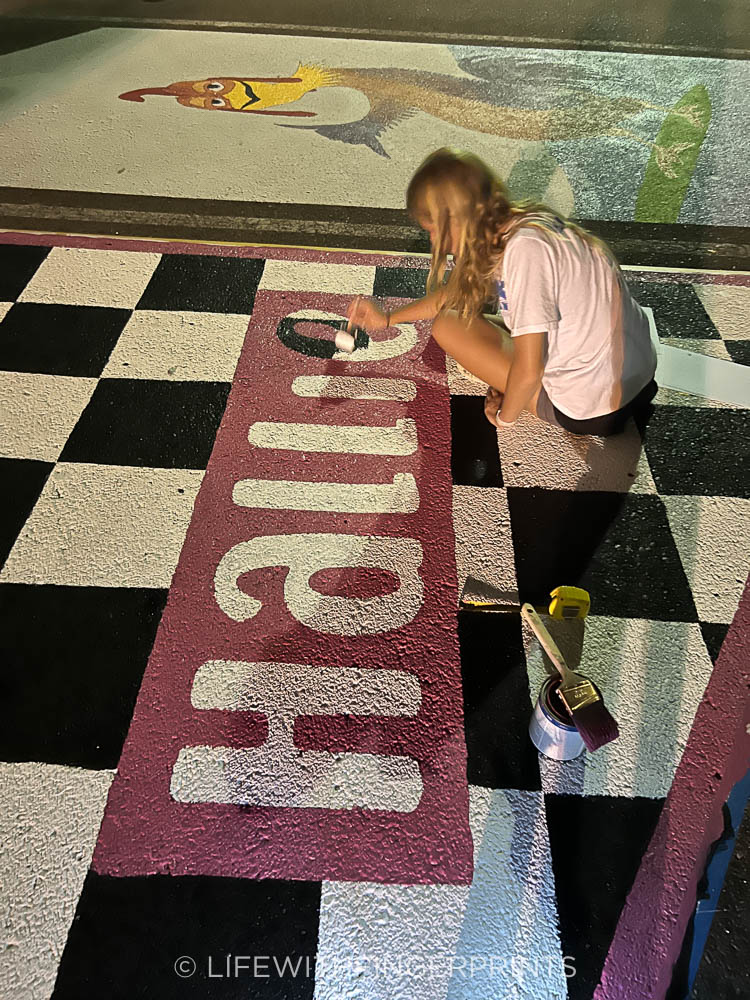 As exhausting as this was – it was so fun. The parking lot was full of energy and excitement and families all came together to help their seniors. We got to hang out with friends and socialize why we worked. There were some who were waiting to paint so they would just walk around and give a much needed boost of energy and enthusiasm. There was so much creativity and so much talent. You had dads painting the whole spot while their child didn't touch a paint brush. You had kids who just wanted to claim their spot. Some who wanted to create something special that represented who they were or what they loved. I love the personality it brings to the parking lot and the excitement and school spirit around it.
Hallie has a lot of cousins who have come through this school and they're all a little jealous they didn't start this tradition a little sooner. I think Hallie is most excited she has a designated parking spot every day – it's a bonus that it's cute. So cute she doesn't want to drive on it now! 😉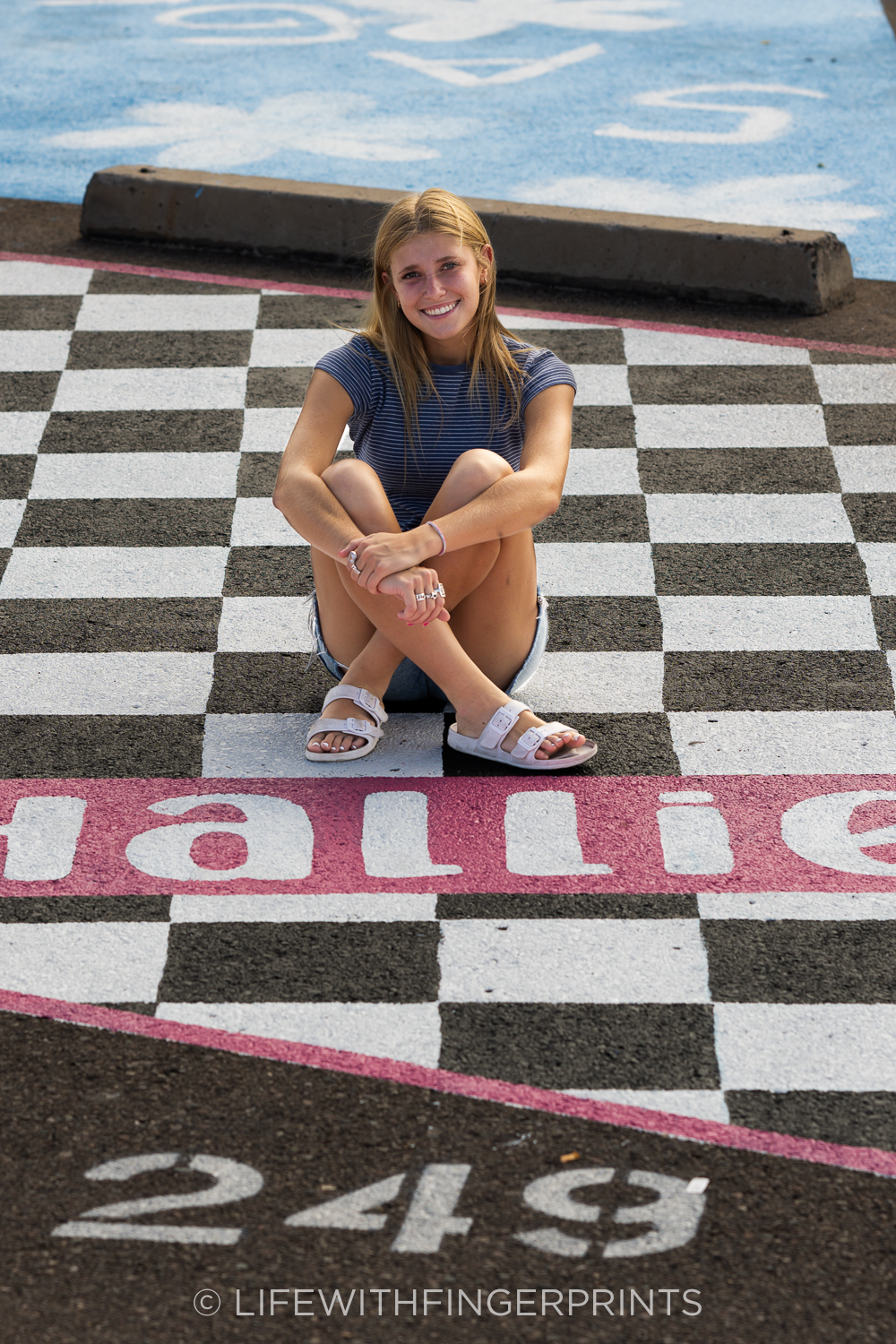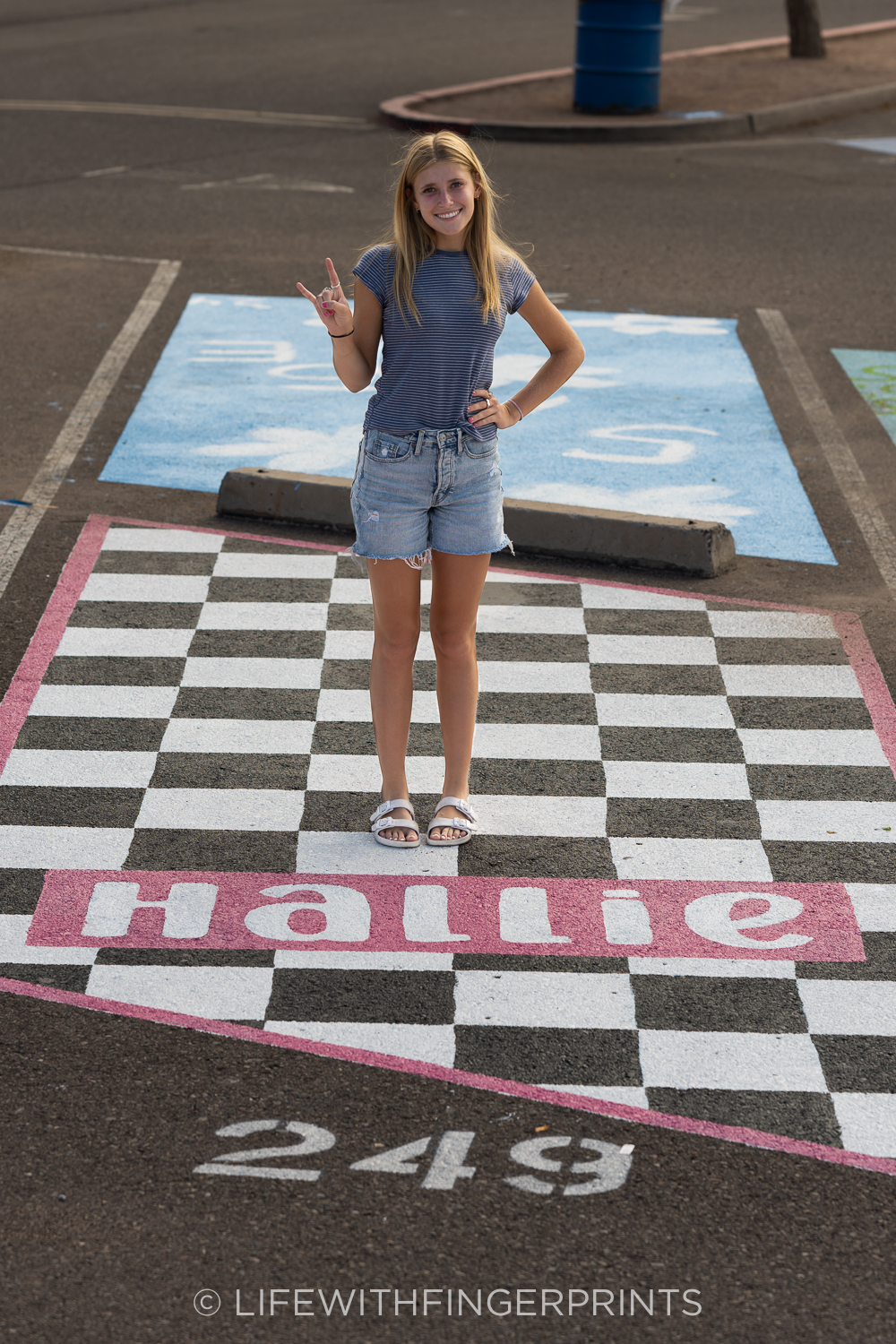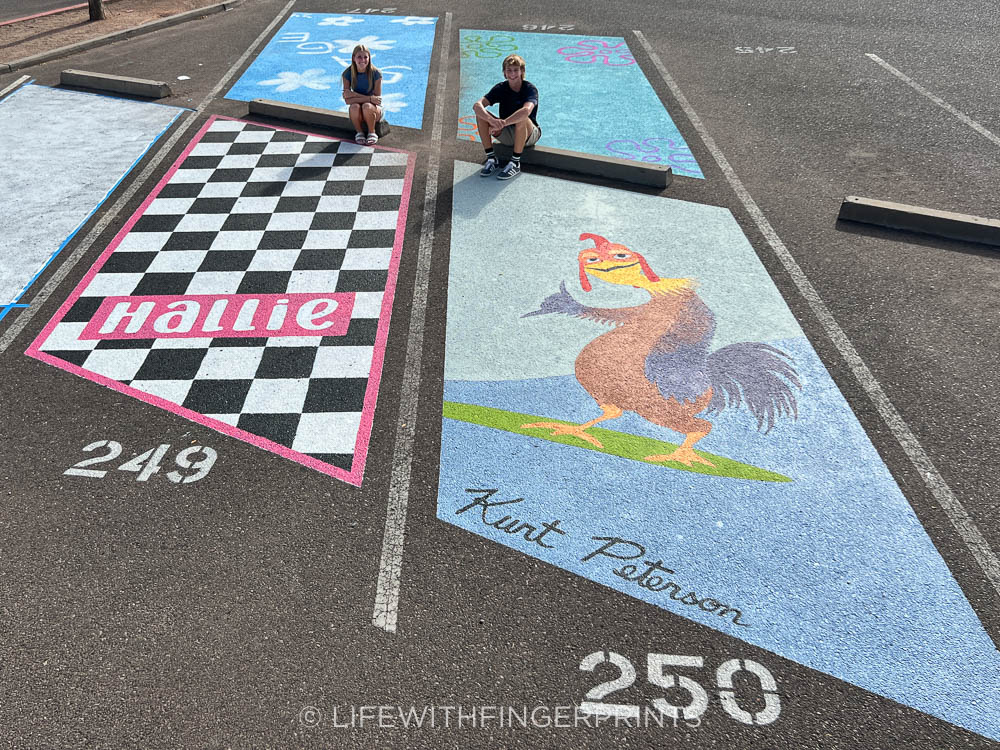 We took the kids over on Sunday so they could see all the ones completed so far and vote on their favorites. Here's a few they enjoyed: